"Sweet Pan/Shovel" - The Horse May 2013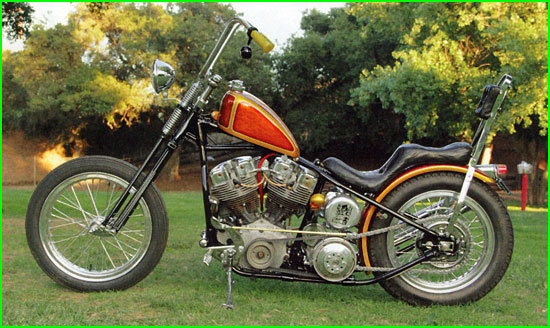 That's the sweet Pan/Shovel you see here before your eyeballs. What you can't see is the provenance/ history behind the 1953 Panhead With Shovelhead uppers. This bike was a mid 7O's Easyriders feature bike that belonged to an old patch holder from the Hollister area in California. The bike was his pride and joy, that he tinkered with and rode constantly until a fateful encounter with a cage, one day.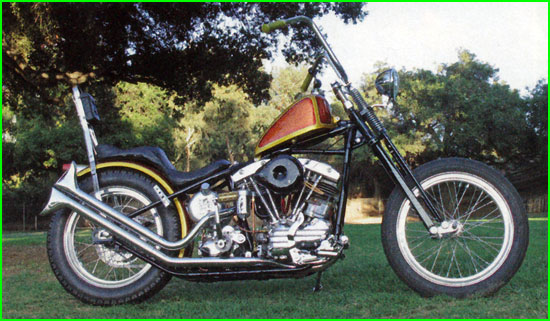 With what was left of the bike in a sorry state sat and languished in the recesses of the bikers garage for what seemed like a lifetime. Dreams of bringing her back to her former glory were put on hold for all the usual reasons. until Dan Check laid eyes on the milk crate covered in Hollister dust.

Dan envisioned this diamond in the rough being his pride and joy and after repeated inquiries and offers with promises of doing the old girl justice, the old biker gave his baby over. The bike was in pieces, no front forks or bars,(destroyed in the crash), but the frame, engine, transmission clutch, seat rear fender and gas tank were there. Enough to begin a bike build with. With his pick up loaded down, he headed over to Kirk Taylor's shop, Custom Design Studios, and worked out an idea that would do the bike justice.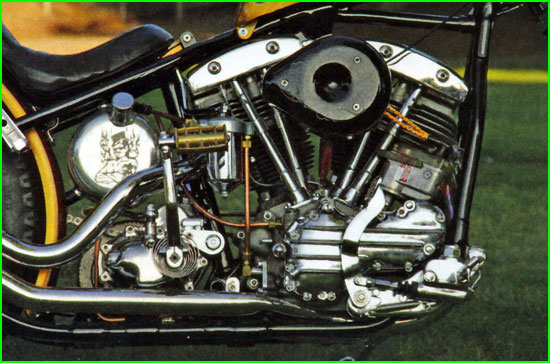 The motor turned over easy enough and the owner said it ran fine at the time of the accident. The transmission case was cracked so a new one was ordered, the old guts were stuffed in. Meanwhile Kirk had his Boy Wonder, Danny re-molding the frame and squirting on some gloss black. Fortunately Kirk had this idea of making the fishtail look, well like fish tails look- one up and one down. The bracketry would attach off the fender strut, no frame mods were required. Dan's budget was tight so they went with a DNA springer instead of the VL Springer they would have preferred.
With a coat of gloss black and some pinstripes on the forks and frame, the roller started looking good. The seat and taillight were originally on the bike and Duane Ballard saw the seat at the photo shoot and remarked that it would be an injustice to re-do an original survivor that was in good condition. Dan mentioned that he wanted to put a skull shifter knob on the jockey shift arm. To which Kirk remarked "If we're going to throw all the cliche's at this bike, then lets put an old German bayonet mounted up to the sissy bar!" Dan thought that was perfect..like out of an old Dave Mann Painting.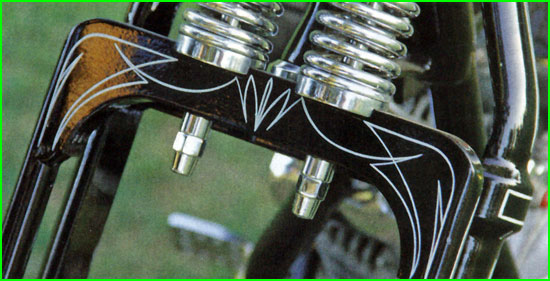 So a quick search on Ebay uncovered 3 candidates. Kirk liked the one you see here and proceeded to fab up the sissy bar and a bayonet mount that would allow the blade to be perfectly functional (and in accordance with local law enforcement)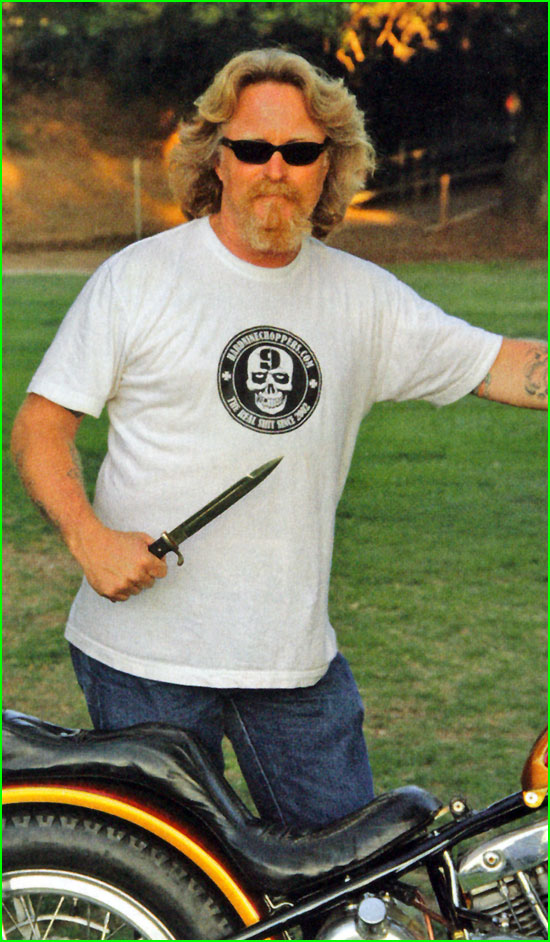 To top it off, the sissy bar is detachable if your riding solo. With those details out of the way, it was time to consider paint. A Krazy Flake and Kandy job with Lace Panels and fades on the original skins was in order, finished off with some of Courtneys killer stripes.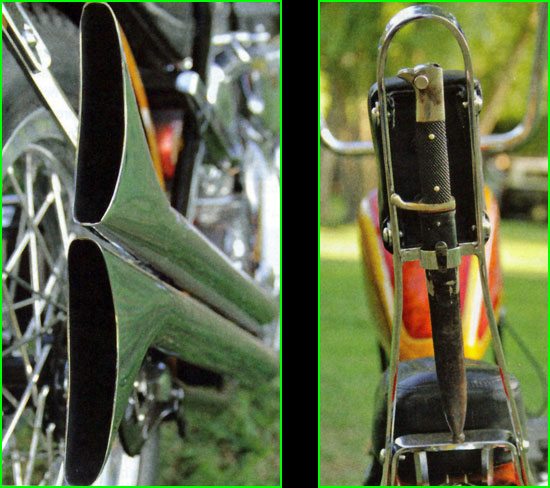 With the paint cured, rubbed out and back on the bike it was time to wire and fire the old beast. Well, needless to say, things never go that easy, and this was going to be no exception. Apparently Magnetos don't fair well. or at least their magnets don't live forever. So, with a call to Joe Hunt it was shipped off for a rebuild. Once back in our hands and into the bike, timing set (manually retarded) some gas squirted down the throat of the carb, the kicking commenced. Well, we kept kicking and kicking and finally with a pop- sneeze- fart and a roar, she came to life. But as with any old "B" carb (I think of them as glorified lawn sprinklers) The plugs were fouling out in short order.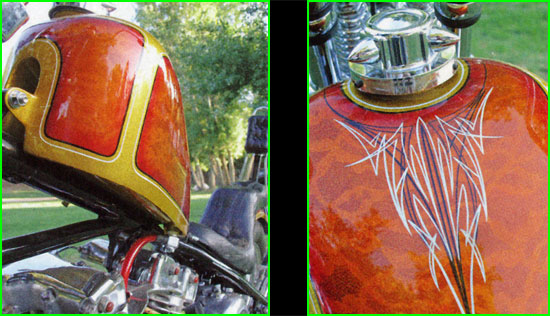 The moral of all this is it wouldn't be an old school bike from yesteryear without the hurdles, trials and tribulations that make us grow to better appreciate what it meant to be a real biker, "back in the day". No push button, fairing protected and saddle bag laden 2 wheel couch. No sir, this here is a real, O.G. Chopper and Dan wouldn't have it any other way. A little confession, he's thinking about converting it to an "E" series carb, cause he's tired of carrying an extra set of plugs and a socket wrench and don't get me wrong. he's got that bagger for the long trips with his old lady to born free, where his baby was shot by Lisa Ballard. So Dan's living the dream. he's got the best of both worlds. just the way he like his fun!