"Lucky F#@ker" - Cycle Source October 2012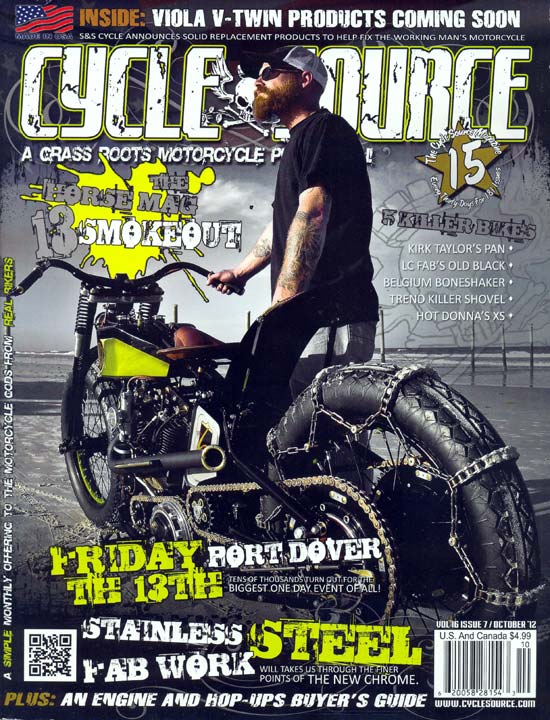 Clean and simple: These are the adjectives that Kirk Taylor uses accurately to describe the orange and black Panhead named Lucky F#@ker, yet the ideas that swirl in his head as he builds are anything but. The construction never lies on paper, but solely as mental sketches, as Kirk sees each part in relation to the whole.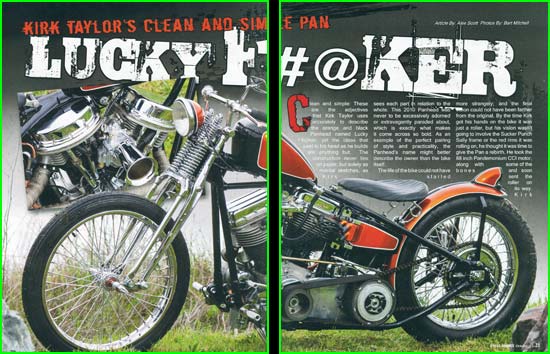 This 2010 Panhead was never to be excessively adorned or extravagantly paraded about, which is exactly what makes it come across so bold. As an example of the perfect pairing of style and practicality. the Panhead's name might better describe the owner than the bike itself. The life of the bike could not have started more strangely, and the final vision could not have been farther from the original.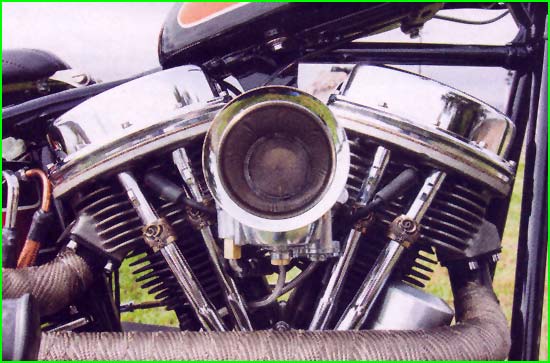 By the time Kirk got his hands on the bike it was just a roller, but his vision wasn't going to involve the Sucker Punch Sally frame or the red rims it was rolling on, he thought it was time to give the Pan a rebirth. He took the 88 inch Pandemonium CCI motor, along with some of the bones and soon sent the roller on its way.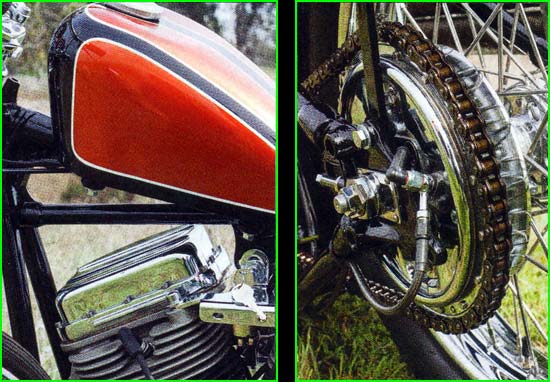 Kirk eventually settled on a 1957 V-twin replica frame wanting to keep it traditional but to have all modern parts on it.'Light and lean, light and lean,' that was the mantra as the bike started to take its form, paying homage to the old bobbers of the Bay Area all along the way. The style- practicality marriage can be seen in all aspects of the bike. It is perfectly exampled in the hand-built straight shotgun exhaust wearing D.E.I. header wraps; keeping a good look while allowing clearance through the hills of Northern California. The straight pipes also perfectly/partially obscure the script "Lucky F#@ker", written behind it. The tank started off as a Sporty tank which was expertly repurposed and holds the Harley racing colors well. The oil pan is an original Harley and the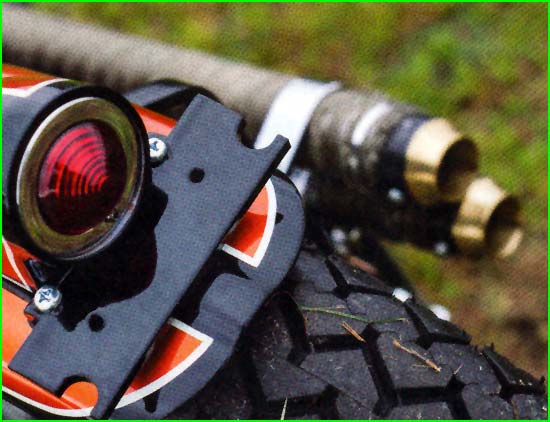 tank, foot pegs, and fenders were handmade, adhering strictly to "less is more" ideal, using only minor modifications. Kirk describes it as, "a budget bike with all the classic looks," and notorious for leaving the owners in the dark as he executes his vision, which he says always rakes in good results. Kirk was born in Santa Barbara, CA but was raised in the Bay Area and continues to build at his shop nearby in Novato California. Custom Design Studios has been going strong since 1988, but it was not originally what Kirk had planned to do. Back in college, Kirk was doing airbrushing on guitars and motorcycles as a side project. Soon after, people started to ask for more work on their bikes which eventually led to him building them in his garage for 7 years.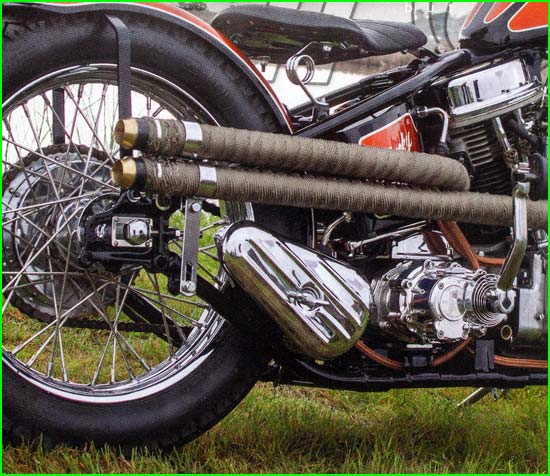 In 1995, he had outgrown his space and much to his neighbors' delight, he took the noise and the fumes out of his neighborhood and into a shop which has garnered quite the reputation and no less than 40 feature articles on the bikes that have roared out of its doors. They have even built a few bikes for James Hetfield of Metallica after Kirk met him at a bike show, and in a strange role reversal, Kirk was the one to invite James backstage. The Panhead took 8 months to be completed, the work being done as money was coming in. They would have hit the exact budget mark had they not realized someone had been borrowing some parts from the carburetor as they were reaching the end of the build.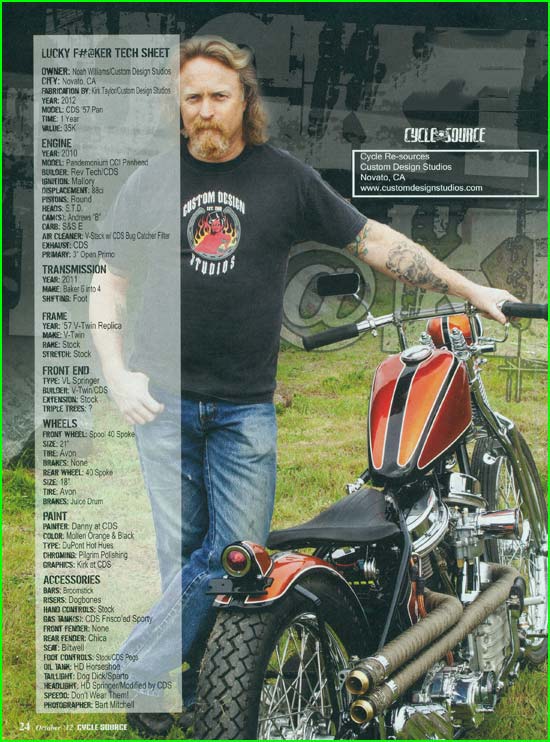 Although they went a few bucks over, Kirk still calls it a budget bike, buthe is no stranger to extreme fabrications on his creations. One technique Kirk loves is to figure out how creatively he can incorporate car parts onto a bike. It is those kinds of builds that he considers the edgier stuff that is part of the Northern California scene which he calls the "Norcal Connection." When asked by some friends when he was planning on moving to Southern Califoihia and join that scene Kirk said with a laugh, ''Never, I'd rather reign in hell than serve in heaven." Kirk gives a big thanks to Noah Williams, the real lucky one, who gets to call this Panhead his own. And when Kirk is not out causing a ruckus up and down the coast, you will find him at Custom Design Studios building everything mild and wild, but as for this Panhead, we thank him, clean and simple.