"Sacred" - A tribute honoring Johnny Chop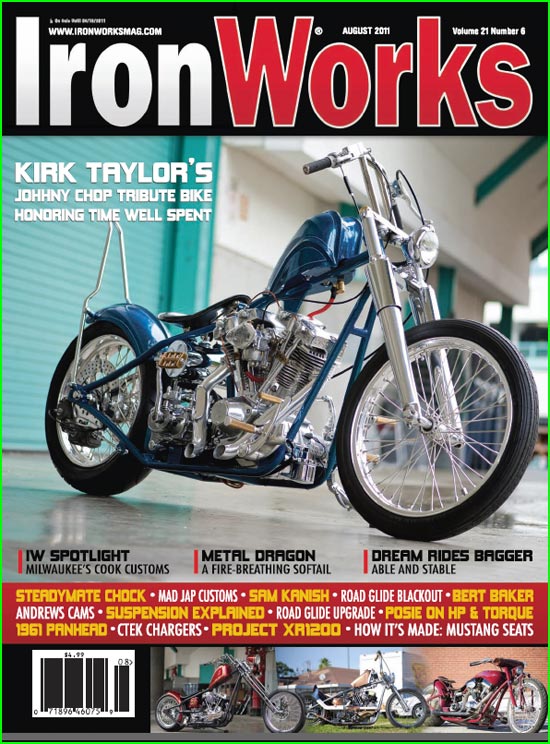 It was a rainy, kind of crappy cold day in March in California when I finally got to get a close look at a bike that I'd seen before but not gotten up tight and personal with. I'd spied the beginning of the machine taking shape—a frame and a few tin parts—while visiting Custom Design Studio in Novato, California, some many moons ago and it was pretty cool to be able take a look at the bike in its fully finished state, no longer a fresh, out of the box bauble.
So during a busy weekend at the Custom Chrome Dealer Show in Santa Clara, Kirk and I rolled this machine out onto the loading dock behind the venue, gave it a final wipe, and there ya have it: Sacred, a bike built by Kirk Taylor at Custom Design Studios in tribute to our mutual, departed friend, Johnny Chop. Plain and simple. Take it away Kirk. —Stephen Berner

I want to start with a little story about how Johnny and I became friends. I had just finished up a project for James Hetfield we had named Saga II. I brought the bike to the Oakland Roadster Show to debut it in public. I was setting up and surveying what we were up against when lo and behold, here comes a little red Panhead that was a real head turner.
The guy with the bike (Johnny, as it turns out) was sizing up our machine and we soon introduced ourselves to each other. I liked his style and he dug ours. At the time Johnny was working at Central Coast Cycles. Soon after that he got an offer to work for Chica in So-Cal and the rest would become television history, so to speak. Things took off.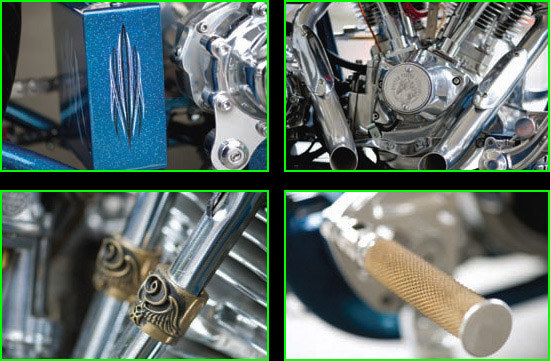 During all this drama, big and small, we stayed in touch and got together at shows (with our pals like SteveB). We became good friends and collaborated on projects as well. We traded ideas, jammed on style.
When Johnny passed away, everyone was shocked and devastated. Johnny wasn't the kind of guy that talked much about his health situation. He had lived with a heart transplant performed several years prior, and in all the time that I knew him, I can only remember him mentioning it once. I think that's one of the reasons why Johnny was a man possessed with passion and creativity.
He knew his time was short and I believe he lived each day to the fullest. "No Regrets." He was one of a kind, a great guy, and I miss him. Many of the pieces on this bike were parts that Johnny had his hands on—and that is where most of the story lies. This project was a "we" thing. That was the vision that Johnny had about what he wanted to create in the VTwin industry and it was that vision I wanted to stay true to. True Blue, if you will.
People and parts: couldn't do it without them. The frame as well as the handlebars were prototypes that Johnny was pitching Santee to produce. With the blessing of his friends, John Geary and Rick Jantz, I started stockpiling the pieces I could find, figuring when the time was right it would come together. Guys and gals—like Repo who was at Baker Drivetrain, and Irish Rich Ryan and Dennis Goodson, Fab Kevin, Steve Broyles, Roland Sands and Kelly Murrow at Performance Machine—all pitched in.
Dave at Chopper Shox, John Hall at House of Kolor and, of course, Tay Herrera, all helped with this collaborative project in their own way. John Geary had a set of foot pegs that Johnny had made. Jim Staley, who owns the F.U. Shovelhead, had shells of sheetmetal that were tacked together. It was the beginning of what was to be a gas tank for Johnny's last client. With a little wheeling and dealing, I was able to get the tank and finish what he had started. During this build, I kept the thought in my mind, "What would Johnny do?"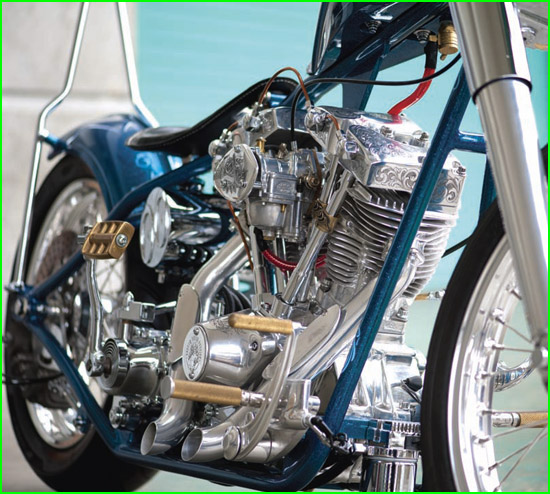 I kept thinking about the theme or name that the bike should have. I had painted the F.U. Shovel "East LA Orange" for Johnny, so I knew his style: Punk Rock meets Low Rider with a 70's van craze vibe thrown in.
Then I finally decided: The bike would have a "Sacred Heart" theme because of his heart condition and the name would be "Sacred." When John Geary, who owns Johnny's bike "True Blue" sent me the pegs, he had mentioned that Johnny's good friend Rick Jantz was fooling around with leather tooling and we agreed that he was the guy for the job. Rick was the guy who spent that long summer with Johnny on the hard rock tour.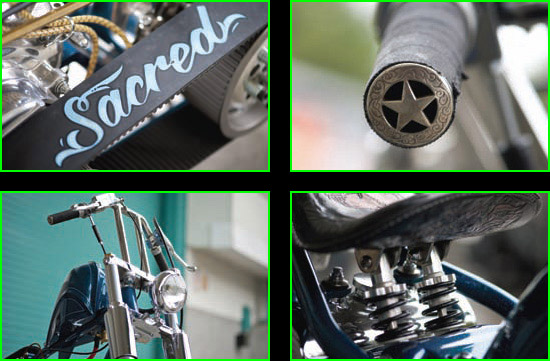 I had drawn up a sacred heart that I sent to Tay the engraver and said, "This is the theme, do your thing!" I sent Rick the same picture and said, "Go for it." Rick sent back pictures of the work in progress and there were three roses on the bottom of the seat. I asked what was up and he shared that Johnny had a tattoo of these three roses on his shoulder/arm. When Hudgy the tattoo artist was finished putting the stencil on, he tossed it in the can and Rick retrieved it for some unknown reason. He thought this was the reason why, and I think he was right. Sometimes you do things that reveal the cosmic purpose to you much later.
With Tay having artist's block, I shared that story and he was instantly re-inspired. As you can see, Tay puts his heart into every project he takes on and this bike was no exception. The engraving is outstanding.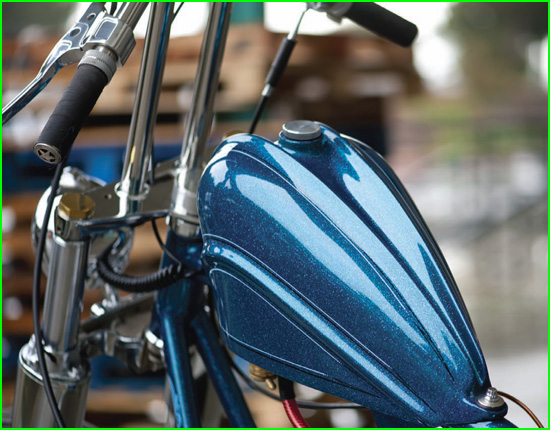 One of the biggest honors for me personally was to be able to debut this bike last summer at Michael Lichter's Eternal Combustion Exhibit in Sturgis where it brought out lots of comments from people in the industry who knew Johnny.
To Quote Chris Callen, "This bike moves me." That's all I could hope for. Keeping the memory alive is what it's all about. Hopefully people will appreciate the impact that Johnny had on our community in the short time he was with us.

Never Forget: Johnny "Chop" Vasko.
R.I.P.