The Inferno
Harleys and rock 'n' roll share a rich history Back when Elvis's ship came in, his first purchase was a new Harley. Times haven't changed. It seems that more rock stars ride H-Ds than wear tennis shoes. Over the years, guitarist Neal Schon of Journey has owned his share of hogs. His latest ride is a customized 2010 Screamin' Eagle Street Glide built by Kirk Taylor at Custom Design Studios in Novato, California.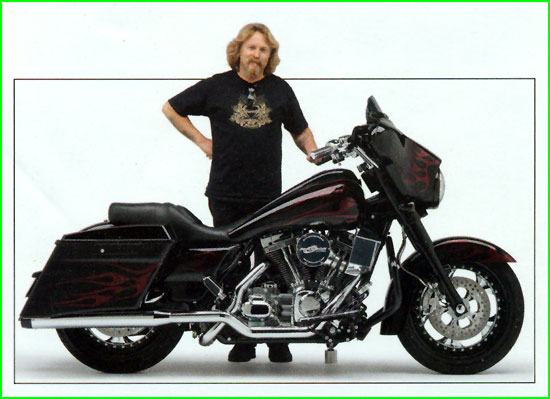 The bike's dark styling resembles a nighttime journey through a dream. The red pearl flames could be what Dante saw as Virgil led him through the Inferno. The sheet metal was altered just enough to keep a viewer easing as to bike's origins. The changes are so well integrated that they are hard to single out. Parts weren't simply installed; they were adapted to fulfill a design that was laid down when the bike's style was conceived. To some, beauty is in the eye of the beholder; to Neal and Kirk, it is equally in the execution and ride.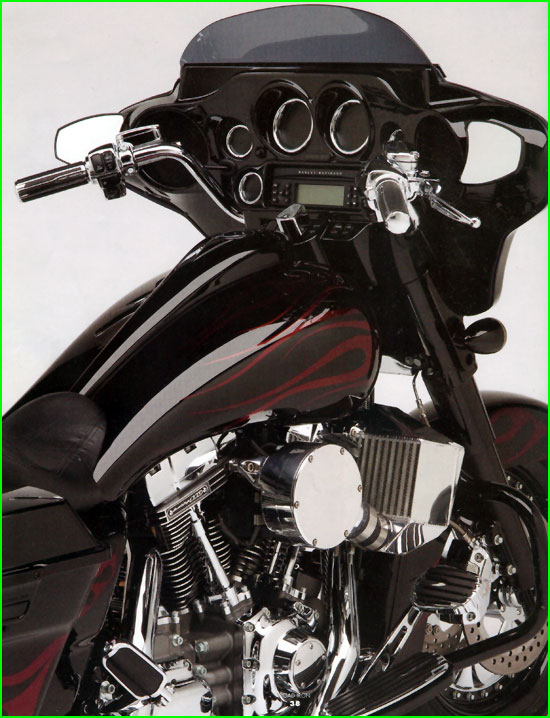 The fact that Neal's bike is built more for riding than profiling is evident in Neal and Kirk's selection of wheels, tires, and performance enhancements. Those wide-section tires won't be bothered by rain grooves or uneven pavement at anything under a hundred miles an hour. The Pro-charger blower will put enough push on the intake charge to assure that the bike will go as fast as Neal chooses to ride, which is usually very fast.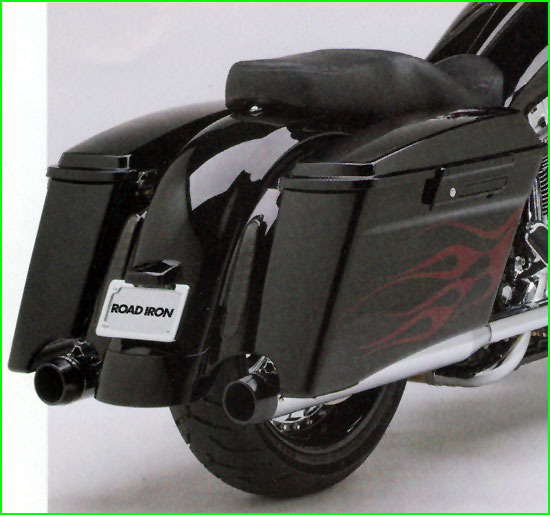 It should also be noted that long-haul comfort did not suffer because of styling. The bars are a comfortable reach from the modified seat. A combination of floorboards and highway pegs keep leg cramps to a minimum. The Dakota Digital gauge package keeps the motor's inner details within eyesight. To keep highspeed windburn down, the factory fairing and windscreen were retained. The Inferno is visual proof that a custom dresser can also be a hell of a road bike. -Tom McCrea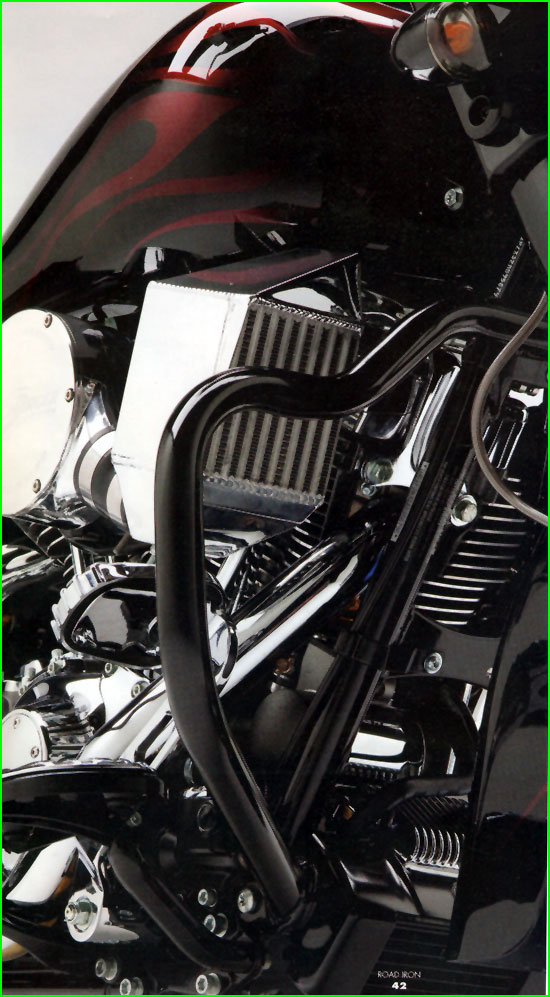 Owner: Neal Schon
City: Novato, California

GENERAL
Designer: Kirk Taylor
Year/make: 2010 H-D
Model: Street Glide
Time: two months

ENGINE
Builder: Custom Design Studios
Year/make: 2010 H-D Twin Cam
Displacement: 110 cubic inches
Bottom end: H-D
Pistons: H-D
Heads: stock
Cam: Screamin' Eagle #253
Lifters: H-D
EFI Computer: Power Commander
Throttle Body: Screamin' Eagle 58mm
Supercharger: Pro-charger
Air cleaner: Pro-charger
Pipes: Rinehart

TRANSMISSION
Year/make: 2010 H-D
Gears: 6-speed
Primary Drive: H-D

PAINTING
Painter: Kirk Taylor
Type/color: PPG Vibrance/Black, Red Pearl

FRAME
Year/make: 2010 H-D
Type: FL
Rake: stock
Stretch: none
Shocks: H-D

ACCESSORIES
Bars: H-D
Handlebar controls: H-D
Fenders: stock
Headlight: factory
Taillight: factory
Pegs: H-D
Speedo: Dakota Digital
Electrics: Custom Design Studios/H-D
Gas tank: CCI Stretched
Oil tank: stock
Oil system: H-D
Seat: modified H-D
Grips: H-D
Mirrors: Wicked Image

FORKS
Type: H-D
Extension: none
Modifications: blacked out

WHEELS
Maker: Renegade
Style: Tahoe
Size: 18-inch front, 17-inch rear
Tires: Dunlop
Brakes: H-D/Brembo ABS
Photos: Michael Lichter
Contact: Kirk Taylor 415-382-6662