"A Space In Time"
Cole Foster's Custom Chrome 40th Anniversary Bike
words by Jeff G. Holt and Cole Foster
photos courtesy of Custom Chrome
When Custom Chrome wanted a bike built to celebrate its 40th anniversary went |with long-time friend and go-to guy cole Foster of Salinas Boys and Hi-Bond Modified fame. Cole has built more than a few top-notch bikes this day and when Custom Chrome came a-knockin' he had the perfect raked and flaked '70s styled bike already built in his head. It was only when the mandate came that the bike was to be built in a rather short period of time from parts only from the Custom Chrome parts catalog Cole knew he had quite a task on his hands.
If you have ever heard of Cole Foster, the first thing you know is that the Salinas boy has keen eye for all things car and bike so it actually took him no time to rip through the CCI catalog and end up with a killer pile of throwback parts to work with.
Once Cole got the parts in house, the real challenge ensued. Once Cole and his staff started in on the bike it was prevalent that this was going to be no ordinary bike-in-a-box build.After endless hours of toiling, welding, grinding, and fitting the finished bike came out looking as if it stepped out of the early '70s. When the bike rolled out of the shop and headed up California's Pacific Coast Highway on its maiden voyage, it was evi- dent that Cole came up with the perfect two-wheeled salute to both Custom Chrome's 40-year heritage as well as to the bikes of that day.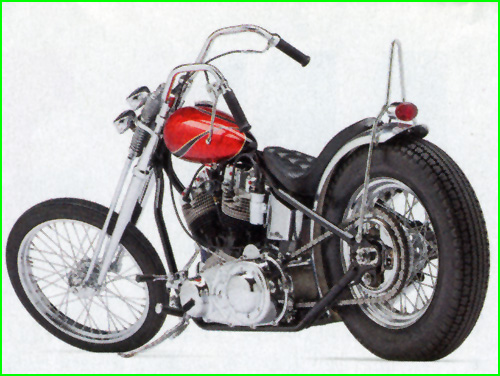 We sat down with Cole shortly after his first ride of the CCI 40th anniversary bike and asked him more about the bike and his involvement with Custom Chrome. Here is what he had to say.
SC: So, How did the bike build come about?

CF: The guys at CCI came up with the idea of buildings bagger to represent the current state of Custom Chrome and a chopper for the past.

SC: When did Custom Chrome first contact you for the build?

CF: In early fall of 2009. They wanted it pretty quickly so they could get it into their 40th anniversary catalog as well as other printed and online media.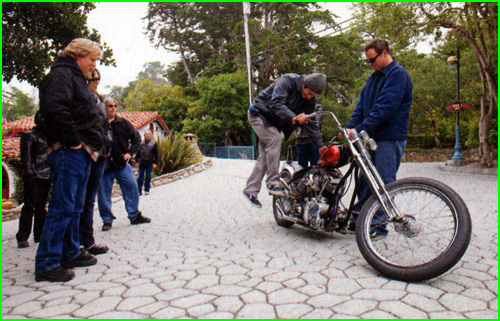 SC: How did you come to know the folks at Custom Chrome?

CF: Over the last eight years or so we have had a very strong relationship. The tank I designed was marketed through Custom Chrome and it was a pretty big hit in the aftermarket. I also did a prior bike build with them as well.

SC: Were there any time constraints to getting the chopper done?

CF: Due to Custom Chrome's production schedules, we had less than 90 days to get it built and ridable.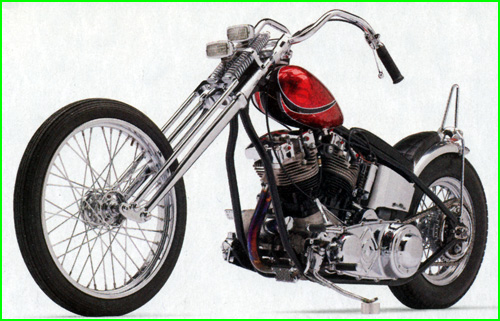 SC: Why did you build this style of bike say over a bobber?

CF: I wanted to do a bike that with one glance would take a person back four decades. So what better than a long bike to do that?

SC: Were there any limitations that Custom Chrome gave you when building the bike?

CF: The only thing was that it had to be built from parts from CCI's latest catalog. I wanted to do it my way and it just so happened that all of the parts I wanted to use Custom Chrome had in stock and ready to ship. So it worked out well.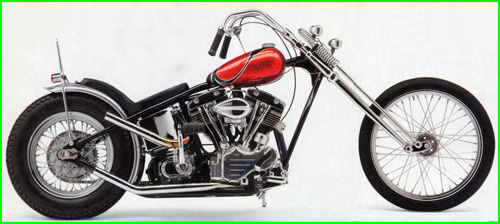 SC: Truthfully, how many of the parts on the bike were from Custom Chrome?

CF: I would say 98 percent. I modified a few of the things such as raking the frame out, changing the forward controls a bit, adjusting the tank mounts and narrowing up the bars to match the springer. The headlights and a few other trinkets were from my personal stash.

SC: What is up with the engine and trans? Did you modify anything?

CF: The motor is just how it came from Custom Chrome. We had to bend and tweak a few things to get the Revtech 4-speed trans and primary tin to fit, but that's chopper building.
SC: Did you fabricate any of the parts yourself?

CF: Only a few things. We built a sissy bar, the dual-headlight mounts and various other tabs and brackets. I also hand-made a seat pan that the folks at LePera covered.

SC: Who came up with the paint scheme?

CF: My good friend Kirk Taylor who did the 40th anniversary bagger for Custom Chrome did it. Both the chopper and bagger have a similar scheme to them.
SC: How does the bike handle?

CF: It handles really good for a rigid long bike with pullbacks and 45 degrees of rake. (laughs)

SC: Would you like to thank anyone for aiding in the build?

CF: My employees Aaron Elliott and Andrew Quinones who really busted ass on this build. I would also like to thank Custom Chrome for letting me be a part of its 40th anniversary celebration. It was a true pleasure.