"Consuela - A TPJ Sweetheart"
story by Stephen Berner
photos by Felicia Morgan and Henry Aparico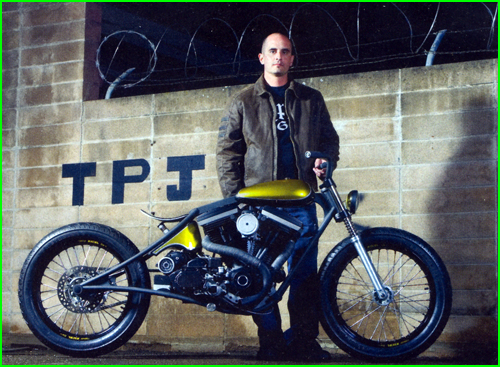 Inspiration comes from a variety of places. Some folks tap their past, their interests or take a good, hard look at the world around that for the lightning bolt that ignites the fire and drives them forward. After taking a good look at this outstanding, unusual machine, it is obvious that Bryan Schimke the sole proprietor of TPJ Customs in Lodi, California isn't lacking for inspiration-he knows exactly what he wants and more to the point, has the skills necessary to deliver the vision.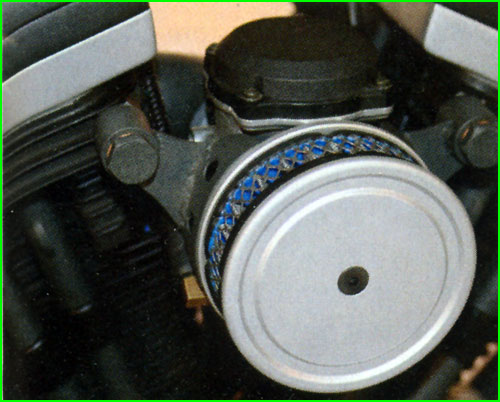 Bryan got deep into the two-wheel scene early in life, when he was 18 and recovering from a broken back courtesy of a snowboarding accident. Being a curious type in his younger days, Bryan disassembled anything he could get his hands on, learning how things work and how they went together. Recounting how he came to be here, Bryan relates he's been building bikes for about eight years and has been full time at TPJ for the past four. Living in close proximity to the foothills of Lake Tahoe, Bryan has access to some mighty fine riding and that flavors how he views performance and handling. TPJ-built machines must not only perform they must also handle well.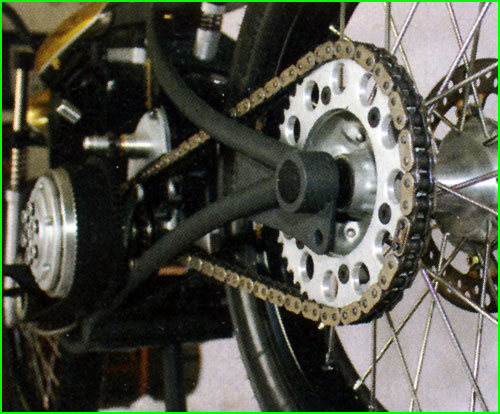 Consuela, the sweetheart of a machine you see before you, is as Bryan puts it, "the perfect bike". With a wet weight of under 300 pounds and 9" of ground clearance this machine knows few obstacles, much like the BMX style bicycles that influenced its style, design and manufacture. Build time for this machine was a short six months of long 16-18 hour days in the shop.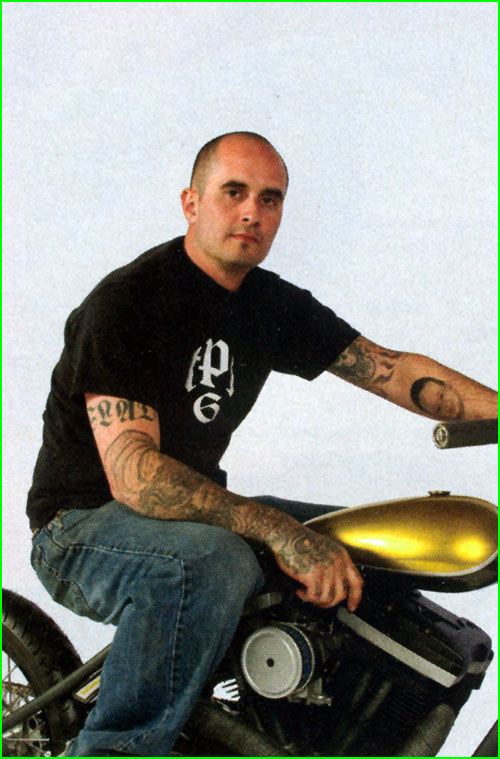 An appearance at the 2009 Artistry in Iron show was Consuela's first time appearing in public. But it is the 2010 AMD show annually held in Sturgis that will be her true coming out. Bryan was invited to participate in this prestigious show and wanted to bring his best efforts to bear.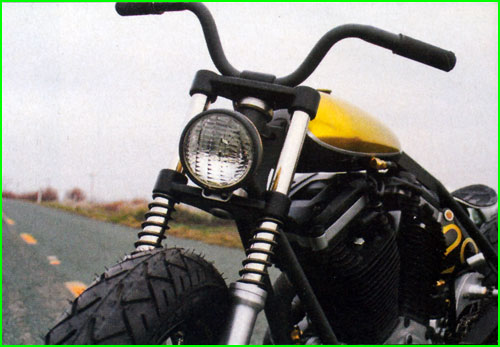 Upfront, the only "store-bought" pieces Consuela sports are the drive train and the distinctive Excel rims-nearly every other piece was fabbed or modified in house at TPJ. Asked why he went with a stock Evo engine in the enlightened age of big inch Twin Cams, Bryan responds, "On a bike that weighs less than 300 pounds, a stock Evo is a fine engine that delivers plenty of power. "The transmission is an out of the box, 5-speed RevTech unit and has been relocated from in traditional resting spot following the engine, being moved 1.75" up and 2" forward.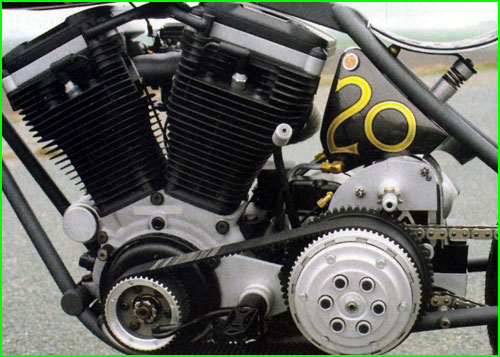 The bike rolls on a pairing of Metzeler tires (100 in front, 110 out back) and 19" rims courtesy of Excel. This dazzling setup has been hand laced to seriously modified Honda 450 hubs. Bryan handled lacing the rims and had his good friend, neighbor and sometimes collaborator; Satya Kraus of Kraus Motor Company supply the internal throttle. Consuela's stopping power is courtesy of a single JayBrake two-piston caliper out back.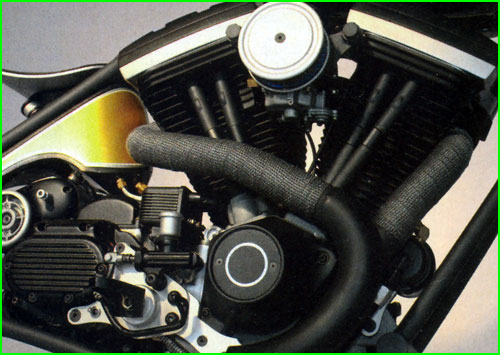 The outstanding DuPont Starry Night and Lemon Mist paint is courtesy of another talented NorCal compatriot and close friend of Bryan's, Kirk Taylor of Custom Design Studios. Powder-coating chores were handled by Precision Striping & Coating.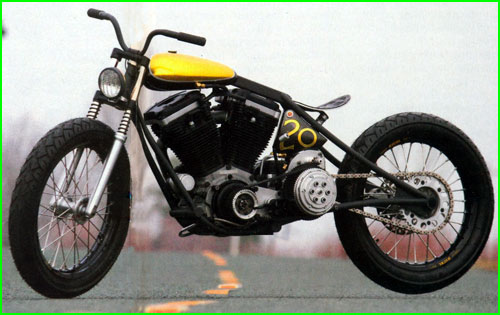 Consuela is an incredibly trim machine with a frame that simply demands close scrutiny. Fabbed in house at TPJ the frame (no stretch, 26.5 degrees of rake and 4.5" trail) is a standout amongst its two-wheel peers, with its thin 1'' chromemoly tubing and elegant, sweeping lines. Triple trees are clean, simple and made in house. Forking duties and front end suspension are of course custom, using SL125, 1972 era lowers that sit 4" under stock and proudly show their springs. Wiring is hidden in the tubes of the frame, easily accessed by removing simple Silver Dollar covers.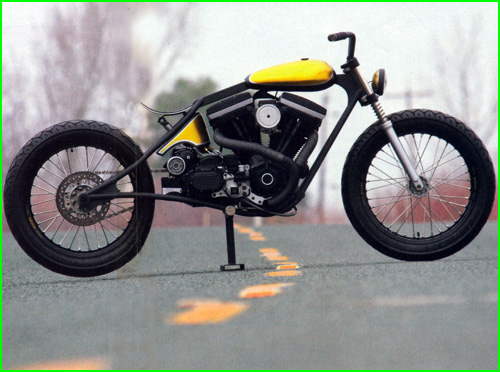 Because it is a true custom and not a bike assembled from kits or catalogs, all the hard parts come from the TPJ shop: foot pegs, 1.75" belt primary drive, pipes, handlebars, midmount pegs, oil and gas tank to name a few. The not-so-padded seat is courtesy of Beaver Leather.
So, what is it like riding a 300 pound V-twin that has 9" of ground clearance? As Bryan relates: "The bike is a blast to ride, handles like a dream and has plenty of tractable power." When it comes time to get off the machine, he finds a wall to lean Consuela against. Just like its BMX forebears that inspired the vision and appearance of this bike, Comsuela lacks a kickstand, as much to save weight as to make the clear statement: Consuela's a rider.
TPJ-built bikes in general, and Consuela is no exception, are distinctive in not only their design and manufacture but also in their purity of purpose--they go, stop and handle like the dreams that inspire them.