"Blood Stains"
WORDS: Ken Conte
PHOTOS: Sean Bowe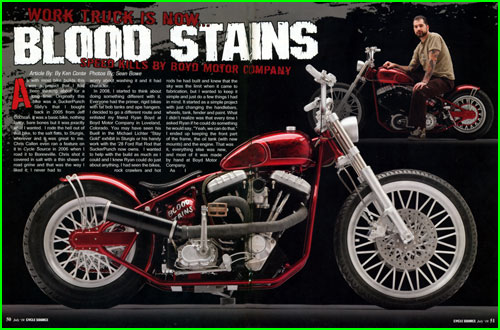 As with most bike builds this was a project that I had been thinking about for a long time. Originally this bike was a Suckerpunch Sally's that I bought back in 2005 from Jeff Cochran. It was a basic bike, nothing fancy, bare bones but it was exactly what I wanted. I rode the hell out of that bike, to the salt flats, to Sturgis, wherever and it was great to me. Chris Callen even ran a feature on it in Cycle Source in 2006 when I road it to Bonneville. Chris shot it covered in salt with a thin sheen of road grime and that was the way I liked it; I never had to worry about washing it and it had character.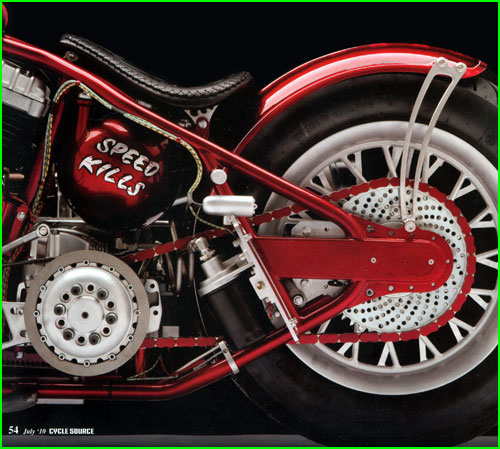 In 2008 I started to think about doing something different with it. Everyone had the primer, rigid bikes with fat bob tanks and ape hangers. I decided to go a different route and enlisted my friend Ryan Boyd at Boyd Motor Company in Loveland, Colorado. You may have seen his Buell in the Michael Lichter "Stay Gold" exhibit in Sturgis or his handy work with the '28 Ford Rat Rod that Suckerpunch now owns. I wanted to help with the build as much as I could and I knew Pyan could do just about anything . I had seen the bikes rock crawlers and hot rods he had built and knew that the sky was the limit when it came to fabrication, but I wanted to keep it simple and just do a few things I had in mind. It started as a simple project with just changing the handlebars, wheels, tank, fender and paint. What I didn't realize was that every time I asked Ryan if he could do something he would say, "Yeah, we can do that." I ended up keeping the front part of the frame, the oil tank (with new mounts) and the engine. That was it, everything else was new, and most of it was made by hand at Boyd Motor Company.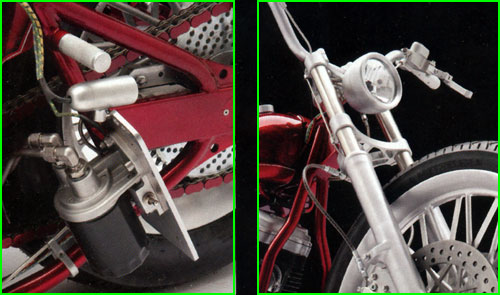 As I started to get into the build, ideas would pop up and Ryan and I would talk about how it would work. I really wanted flush mounted axle caps on the back and also liked the way Gard Hollinger had done his, but I wanted a drag racing brace similar to the WCC dominator frame, while taking into account the ISR sprotor set-up I got from LACC. We stripped my bike down to the bare frame and put it in Ryan's sweet frame jig. It is stuff like a real frame jig that sets builders apart. I could tell from the first piece he made that I was going to have a world-class custom bike. We started cutting the rear triangle of the frame off as Ryan set up the Bridgeport to machine my axle blocks. It turned out very unique and really set the pace for the build. It looked racy and clean, which we carried throughout the rest of the bike.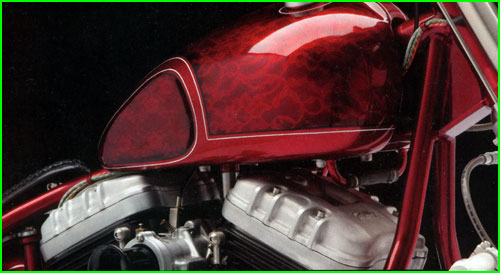 I found a used 35 mm dual disc front end at the local chop shop and Ryan shaved the lowers and made some custom triple trees that were super narrow but could still fit a dual disc ISR brake set-up, if we swapped the legs. He machined custom fork caps and is now selling this entire set-up to customers. I asked Ryan if we could do a custom headlight bucket around a 4.5" spotlight lens, his response, "We can do that." I bought a chunk of aluminum and he hand turned the bucket on his lathe; it's totally unique and looks great.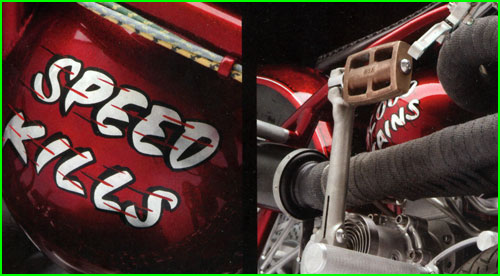 As we started to do parts I realized I wanted everything brushed or painted, nothing shiny chrome. All the parts that were machined from steel that did not get painted were chromed then received a Scotch-Brite scrubbing. The bike has spawned a part line for Boyd Motor Company and is now offering 35 mm triple trees, risers and battery boxes all prototyped for this build.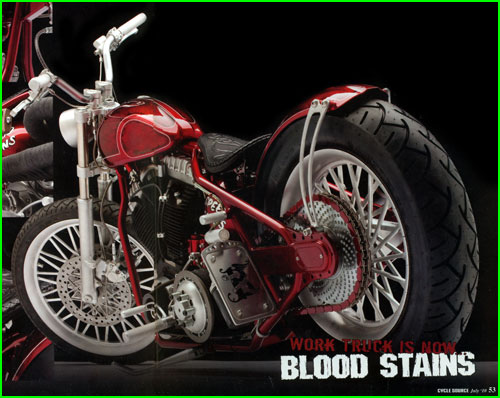 The tank was an idea I got from Justin, aka "Princess," at SPS in AZ. He had taken an ugly old Superglide tank from the '70s and had narrowed it (and blew it up in the process, but that's another story). I wanted to take it a step or two further by dishing the sides in like a Triumph, putting a feature on the backbone that matched the Led Sled Mohawk fender and have flush tank mounts. Ryan produced all this like it was no big deal and even let me work on some of the tank.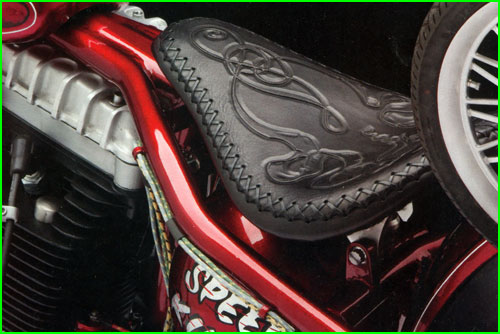 I decided to stay with the racy theme when it came to foot controls and went with mid-controls. Ryan designed the lines of the mid-controls to match the lines of the fender struts. Mids let me feel the bike underneath me and kept the narrow aesthetic. I told Ryan I wanted them stout so he welded them to the frame tube and put oil-impregnated bushings in to ensure proper movement; they work great!
The more we got into the build, (it took a year of nights and weekends) the more I enjoyed the process and the less l was willing to give in to sub-standard parts. I ended up with exactly the BAKER transmission a wanted, a airspeed, kick only, with no starter ear and a hydraulic clutch. It's the best transmission I have EVER had in a bike: smooth, quiet and kicks over that 80 inch no problem! Having a hydraulic hand clutch is a great way to go; I was really able to dial it in with the combo of the ISR hand controls and BAKER set-up. The SPS billet wheels and rotor were a great addition because we brushed them and they gave an overall nostalgic look to it. I got some ME 880 Metzeler tires because they stand up to hard riding ant! I am planning on putting some serious miles on it.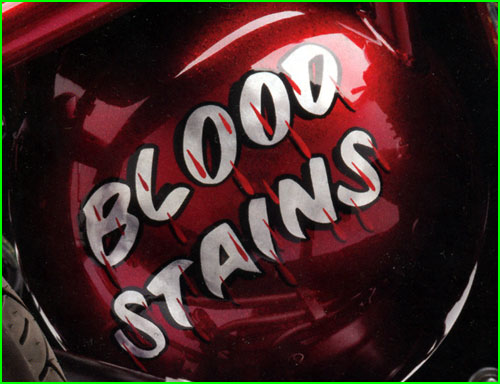 The paint was tricky. I knew I wanted something flashy but nostalgic. Kirk Taylor at Custom Design Studios knew how to handle it so I let him do his thing. It ended up being featured at the DuPont paint booth at SEMA this year because of his great paint work. The metal flake looks great in the light and the candy apple looks about an inch thick. I couldn't have come up with as good a paint idea ever so I am glad I left it to the professional. We sent a little bit of the paint to Eric at Insane Chains and he made a killer chain to match.
There were just a few odds and ends left to take care of. We swapped the stock rocker boxes for a pair of Fuller Hotrod rocker boxes and they really set the engine off. I used as many Gardner-Westcott 12-point fasteners as I could handle. Paul Cox made an awesome leather seat in a way that only he can! Ryan made everything that he could by hand, so a minimal amount of stuff was taken out of catalogues. He paid attention to all the details and to me that is what really made this bike build fun. It took me back to a time when my life was a little bit simpler and I listened to a lot of Agent Orange, hence the name "Blood Stains-Speed Kills." The best part is I get to ride it all summer long and put some serious miles on it.
I want to give a special thanks to Ryan Boyd for all his hard work working nights and weekends to help me realize this dream bike and introducing me to "The Dirty South." Also, a big thanks to my wife, Mary, who took care of my kids Elvis and Layla, all the nights l was down at the shop', you are the BEST!