"Look Who's 40"
WORDS: Brian Marion
PHOTOS: Courtesy of Custom Chrome and Michael Lichter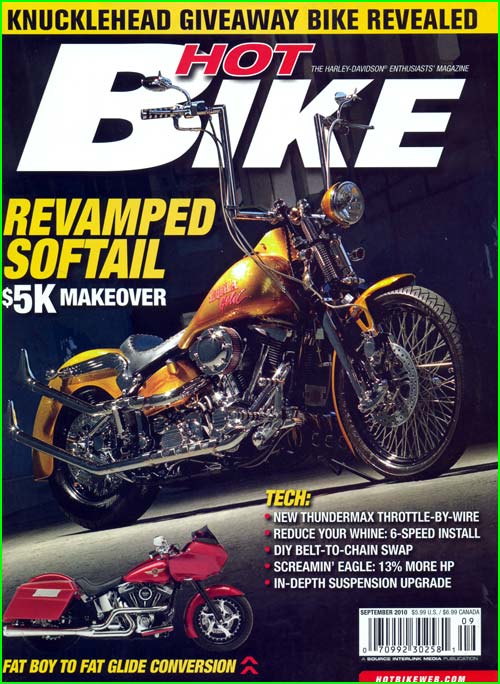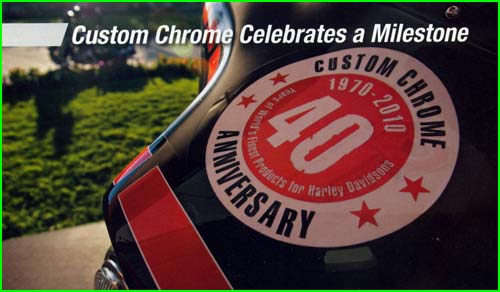 From selling hard-to-find motorcycle parts out of a nondescript retail building to becoming a global giant of aftermarket parts sales, Custom Chrome (CCI) has helped shape the V-Twin market into what we know today. With offices worldwide in California, Germany, Japan, Spain, England, Italy, Slovakia, and France; Custom Chrome has become one of the worldwide leaders of V-twin motorcycle parts and accessories distribution.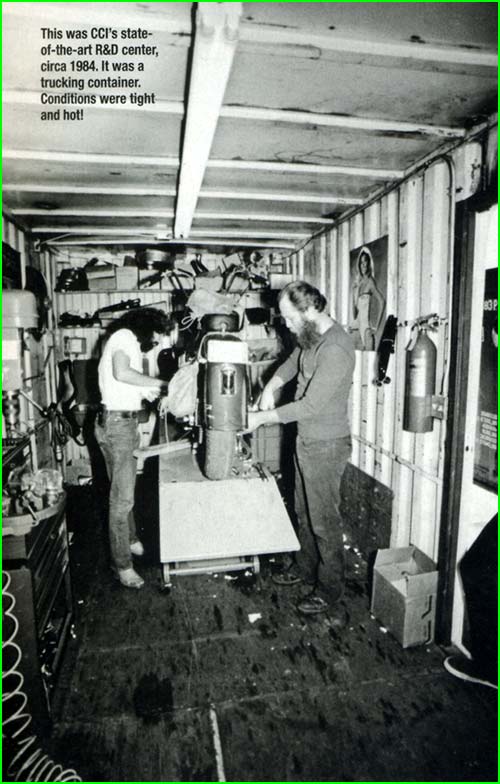 That first seed of business was born on San Carlos Street in San Jose, California, in 1970 by four friends lead by Nace Panzica, then a 27-year-old mechanic and industry icon Ty Cruze. The initial startup was set into motion as an opportunity to supply hard-to-find parts for all bikes to the bikers in the burgeoning Bay Area bike scene. Rumor has it that the first part ever sold was in fact, a handlebar for a Honda! After several years Nace and Ty bought out the other partners and continued growing the business, often finding themselves working out of their homes as much as the office, proof of which is that the very first CCI catalog, printed in 1973, was pieced together on a kitchen table.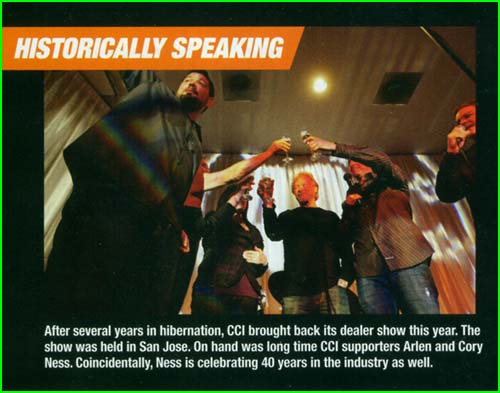 Throughout the '70s, CCI expanded its line of aftermarket parts as the industry grew along with the appetite for motorcycles. Supplying dealers with quality, low-cost parts and accessories CCI took advantage of the many motorcycle booms throughout the decades, the first coming in the early '70s as Harley riders wanted better machines with power, and for customizers like Arlen Ness to create something different at every opportunity.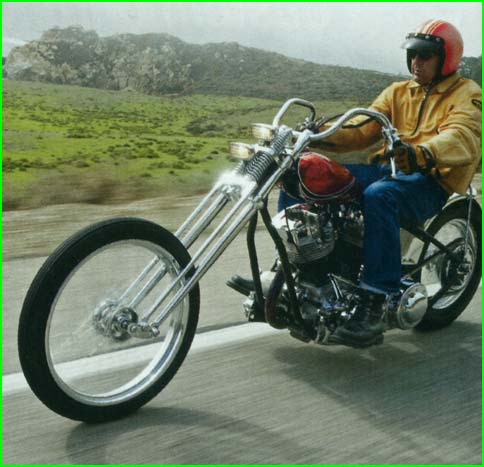 "This is our 40th Anniversary year as well, and I have been with CCI from the beginning," says Ness."I think the first parts we had with them were some license plate brackets and mirrors."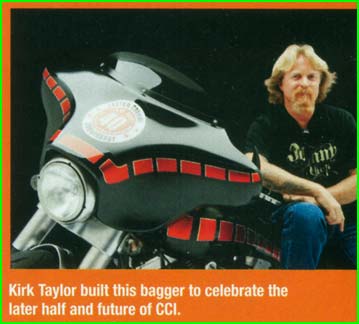 During the late '70s and early 80's, CCI continued to expand, seeing many industry milestones along the way. CCI was the first parts company to sell more than $1 million in aftermarket accessories, the first to have a dedicated show truck for rallies, and the first to have a dedicated "Dealer Show," a fact that rings important now with the return of that legendary show in 2010. With all this success brought a change of address, to Morgan Hill, California, and a new, larger headquarters housing all aspects of the business including R&D and engineering, along with the usual sales and marketing.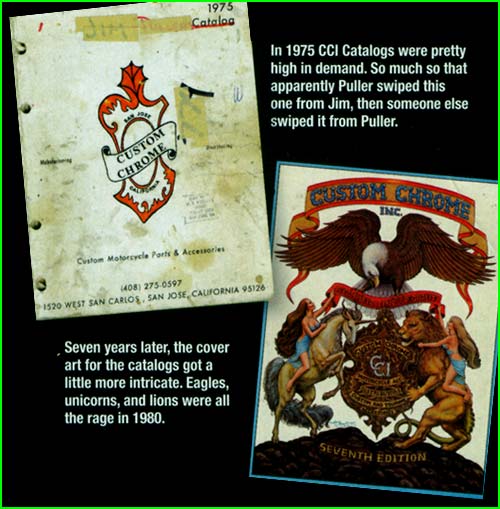 The '90s saw another boom for Harley-Davidsons that fueled more and more aftermarket parts sales, and CCI was in the right place at the right time. The new market growth was spurred on by the rise of, at first, the customized factory Harley and then, duing to late 90s and early 2000s, the complete custom bike craze that saw larger, more elaborate machines and even more powerful engines.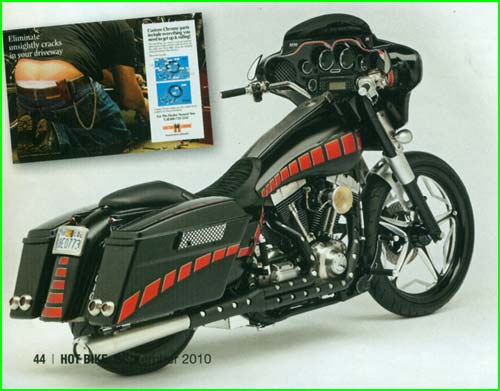 CCI addressed this change in the market by hiring some of the best-known custom part designers and bike builders from around the world to supply the company with fresh ideas and products. Industry icons like Dave Perewitz, Rick Doss, and British import John Reed, push the boundries of aftermarket parts design and style, all going right into the CCI catalog, onto the dealers shelves, and ultimately, onto customer bikes.
In the current decade. To industry has changed once again. Gone it seems are the monster machines, replaced with smaller, more personal bikes, and in a throwback to the past, the H-D stock bike being accessorized, not so much customized. Worldwide influences are taking shape with more and more popular parts coming from Europe and Japan, not just the US.
"We're seeing such a technological influence on our business no matter what country you live in," states CEO Holger Mohr. "In fact, with the internet and social media, every builder, designer, and customer has immediate access to the latest and coolest parts. If a guy in America bought a really cool part, he can share that via the internet, instantly, and his German friend is asking his dealer about it the same day!"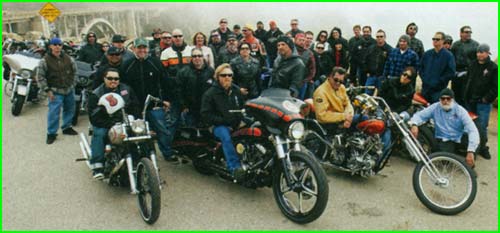 It's reaching this more informed and educated customer that is the hallmark of today's CCI versus the company of the same name just a few short years ago. Today, CCI is a corporation doing business worldwide, in every country where there are V-twin motorcycles.
"For our 40th Anniversary year, we brought back the Dealer Show in San Jose, and it was a tremendous success" said Mohr. "As we move into the future, CCI will continue to push the boundaries and innovate. It's being first that has driven us since 1970 and will continue to drive us forrward."
So what does the future hold for CCI? More cutting-edge parts are in R&D as we speak, and the company is poised to continue being the industry's preferred partner. With a new generation of riders, designers, and builders on the horizon, the business of motorcycling is as bright as it has ever been.