"Chopper Challenge TV - Geico Bike"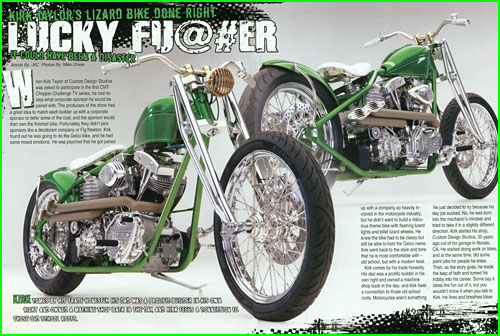 When Kirk Taylor of Custom Design Studios was asked to participate in the first CMT Chopper Challenge TV series, he had no idea what coporate sponsor he would be paired with, The producers of the show had a great idea to match each builder up with a corporate sponsor to defer some of the cost, and the sponsor would then own the finished bike. Fortunately they didn't pick sponsors like a deodorant company or Fig Newton. Kirk found out he was going to do the Geico bike, and he had some mixed emotions. He was psyched that he got paired up with a company so heavily involved in the motorcycle industry, but he didn't want to build a ridiculous theme bike with flashing lizard lights and billet lizard wheels. He knew the bike had to be classy but still be able to hold the Geico name. Kirk went back to the style and tone that he is most comfortable with - old school, but with a modern twist.
| | |
| --- | --- |
| | |
Kirk comes by his trade honestly. His dad was a prolific builder in his own right and owned a machine shop back in the day, and Kirk feels a connection to those old school roots. Motorcycles aren't something he just decided to try because his day job sucked. No, he was born into the mechanic's mindset and tried to take it in a slightly different direction. Kirk started his shop, Custom Design Studios, 20 years ago out of his garage in Novato, CA. He started doing work on bikes, and at the same time, did some paint jobs for people he knew. Then, as the story goes, he made the leap of faith and turned his hobby into his career. Some say it takes the fun out of it, but you wouldn't know it when you talk to Kirk. He lives and breathes bikes and cars. Kirk also recognized that he was only as good as the people he surrounds himself with, so having his wife Lisa around to keep him grounded and handle the business side is essential to keeping his business thriving.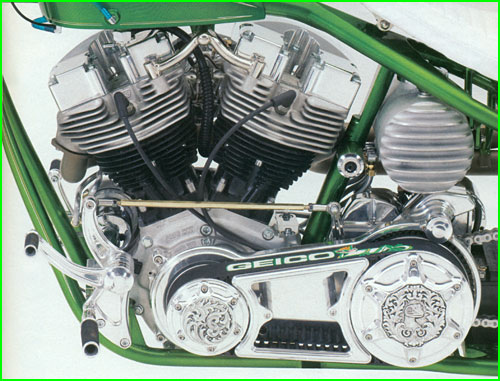 During the build process for the Lil' Lizard bike, Kirk wanted some of his close builder friends there to help out and contribute their individual styles and parts. Kirk chose Satya Kraus from Kraus Motor Company, an up-and-coming builder who donated newly designed internal hydraulic hand controls that have front brake by twisting forward, throttle by twisting back on the right side and an internal hydraulic brake on the left side. It cleans up the bars and works incredibly well. Satya also helped with a lot of the grunt work involved in the build. Greg Westbury of Westbury Hotrods came to the shop for a few days to help out as well. His fabricating skills came in handy with the exhaust and cutting and forming the rear fender. Every shop has a
workhorse, and at Custom Design Studios, it is Mike. He works so he can race on the weekends and can do everything and anything mechanical. He has worked on bikes for over 20 years and was instrumental in getting this bike done.
Kirk knew he wanted the bike to buck the trend of going over the top with one theme, but he wanted to get the lizard idea across. The bike began to take shape as Kirk got the BMC frame, which would give it a fairly compact stance. Kirk knew the S&S Alternator/Generator Shovelhead motor was going to need some added value, so he sent it out to Te Herrera to have him do some magical engraving on it as well as the triple trees of the Harmon frontend and the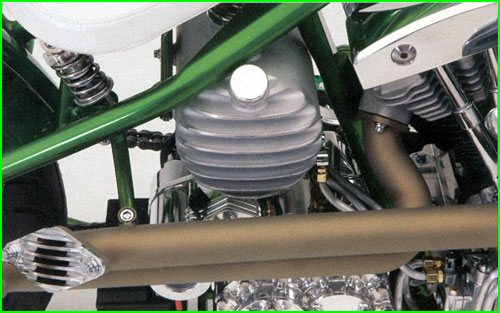 Goodson air cleaner provided by Irish Rich. Te did a tasteful job of including the Geico Gecko on the motor within a theme of creative traditional scrollwork. The Custom Design Studios' logo was included on the air cleaner, and some traditional scrollwork ended up on the triple trees to tie it all together. The Geico logo was also transcribed onto the Baker belt. Kirk and the crew decided to use a pearl white tuck-and-roll design on the solo seat to represent the lizard's belly in contrast to the rest of the bike.
Paint is always a hard decision for Kirk because he gets personally invested in every paint project. Being the builder and painter puts him in the unique position to see the bike from beginning to end, so everything has to flow and fit together aesthetically. After seeing a color on a car at a show, Kirk was convinced he needed to come up with something that would showcase the components and still have an old school feel. The heavy flake green was laid down, and although it was subtle, it carried the Geico theme through the bike.
Only someone with Kirk's vision and talent could build a tasteful version of a corporately sponsored bike. It probably goes back to his artistic roots and the fact that he takes on each project individually. He can do a pro-street, bagger or even a vintage restoration, but his heart and soul belong to the old school vibe that came together perfectly for this build for the network premier of CMT's Chopper Challenge.