"Suicide 2"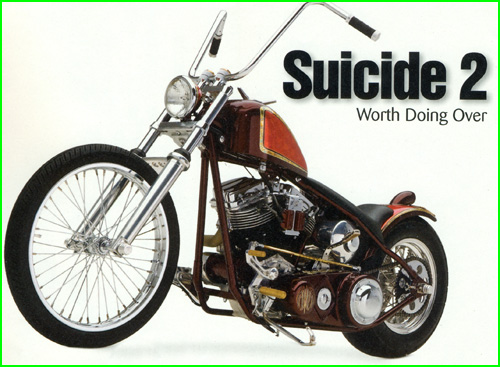 The sparkling root beer ride in front of you is one leg wettin' ground-up custom. Kirk and Lisa Taylor of Custom Design Studios in Novato California, reconstituted this bike Kirk originally built more than 10 years ago. Back then they called it "Suicide."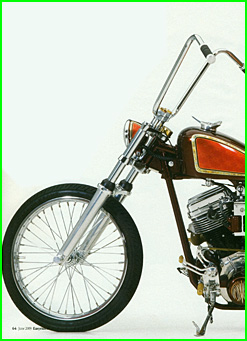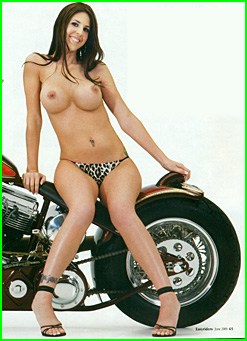 Kirk tracked it down through three owners and managed to get it back on the slab. As you can see, today it is a kick-start only, foot clutch, suicide shift 4-speed, rigid retro scoot with a generator-style motor built from hand picked pieces. What else would you call it but "Suicide 2?" Just looking at it scares some folks but Kirk claims it isn't so bad, "If you tickle her just right, she starts right up on the first kick."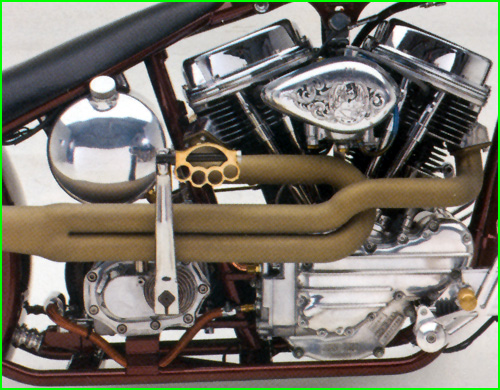 For practical riding, Kirk said he would prefer to go back to a hand clutch, foot shift setup since there are times in city traffic when it is better to have all the controls in the right place. With a revere shift drum, finding neutral is always a hoot. "One back and three up!" Kirk says, "It's what the old timers were riding."
"Fab Kevin" made the Mopar-inspired pistol grip jockey shift arm and the webbed belt guard. Of course Kirk made sure to include his favorite boat trailer style rear fender and CDS' signature series Dog Dick taillight. Kirk enjoys incorporating some coolness from old hot roll cars into his bikes, so when he found a 2-part window knob from a 1951 Chevrolet Roadster that his dad made while in the Navy, Kirk thought it would turn out to be the perfect stem nut cover.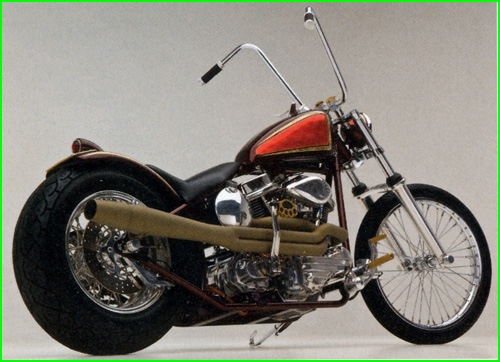 This month's Fox Hunt winner, the beautiful Brandi from sunny California loved the old-school lace incorporated in the orange and root beer paintjob. She couldn't wait to shuck her jeans to straddle this pleasing pan. -Con Queso