"Kirk Taylor: NorCal's Old School King"
text by Scott McCool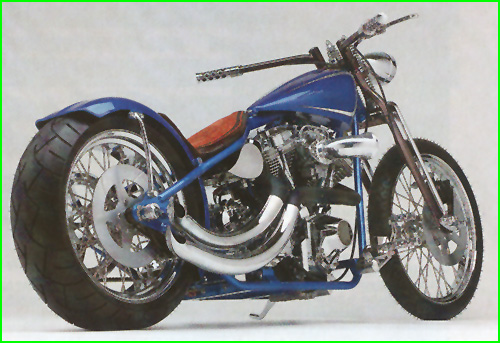 Frequent attendees of our Easyriders/ V-Twin Blke Shows have heard his name blared over the PA system many times. He's usually the guy picking up the Best of Show or a First Place trophy in every show he competes in. Many of you may recognize his bikes before you recognize him. His bike building talent is sought out by everyday motorcycle enthusiasts, as well as famous celebrity riders. And, in all of this, he's one of the most humble. down-to-earth guys you'll ever meet. Let us Introduce you to Kirk Taylor..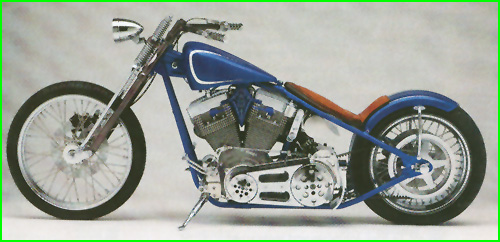 Kirk, wife Lisa, and his shop, Custom Design Studios, have a home in Novato, just outside San Francisco, California. Kirk opened his shop in 1988 after seeing a real need to have a custom paint shop In the NorCal area. There were a few well-known builders in the area, but surprisingly, the custom paint being done looked substandard to Kirk. He basically grew up in a machine shop owned by his father. It was there that he gained his mechanical background and began an appreciation for the "art- work'' that surrounds a custom build. Slowly but surely, Kirk's work progressed from just painting the bikes to building them.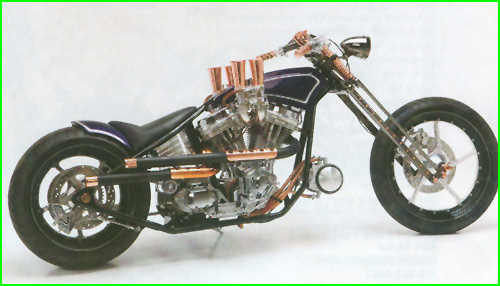 And, after several years building in relative obscurity, Kirk and his CDS shop blew up in grand fashion. Being so close to the CCI headquarters, Kirk caught the attention of several of the higher muckity mucks there and was soon building CCI concept bikes. Two of those bikes were built for legendary Metallica frontman James Hetfield. Both the bikes, ''Widowmaker'' and ''Splitail" have been featured in both Easyriders and V-Twin. "I showed James how to build a bike," Kirk says. James is a big gearhead and, although he's currently more into cars, he really appreciates all the stuff that goes into building one of these bikes" Kirk's other star clients include: Robert Trujlllo (bass player for Metallica); Neal Schon (Journey); Marcello Diaz (former member of SoulFly); and legendary Blues guitar player, Joe Lewis Walker.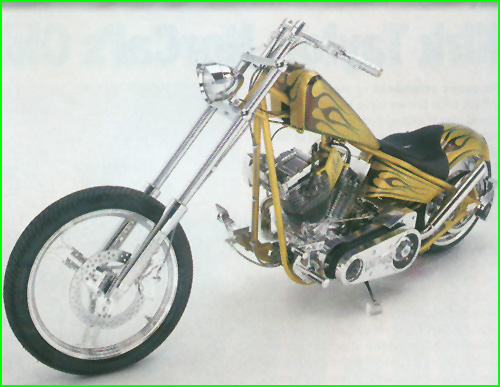 It's not just the magazines that are clamoring for Kirk's bikes, either. Kirk has been showcased in the coffee table books Art of the Chopper and Art of the Bobber, he's been featured on CMT's Chopper Challenge building the GEICO ''Green Lizard'' bike; American Thunder; Corbin's Ride On and Chopper Nation. Companies such as ING and Cromwell Tools have sought out Kirks talents and one-of-a-kind choppers and bobbers and have commissioned a few bikes from Kirk. He's also working with Dupont's Custom Finish Line called Hot Hues.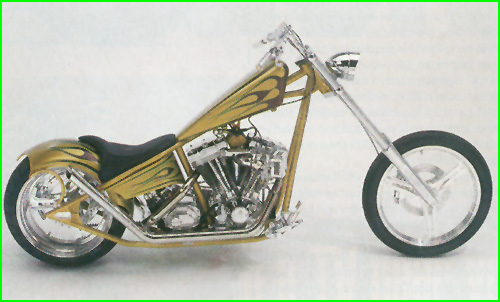 "Ron Skyrme and the folks at Dupont are just a super group to work with. This is a company that came to me. I was fortunate that I didn't have to chase this company down and Ron has a real laidback and com- fortable attitude, making him and the rest of the folks at Dupont a breeze to work with. They're extremely supportive of us and the custom motorcycle world" Kirk has his hands full with new projects.
He has been developing a parts line that includes his Dlcks Cool Unit velocity stack; his new oil filter adapters; and a new set of flat tracker-style bars...for baggers, I'm trying to get cool parts to all the old-school guys, but there are other bikes out there as well. CCI picked up two of the three parts," Kirk says. ''They're holding off on the bars until they see some more progress, but that shouldn't take too long." But Kirk's not just a bike and paint man, the future of this industry is becoming very important to him and all of us as well.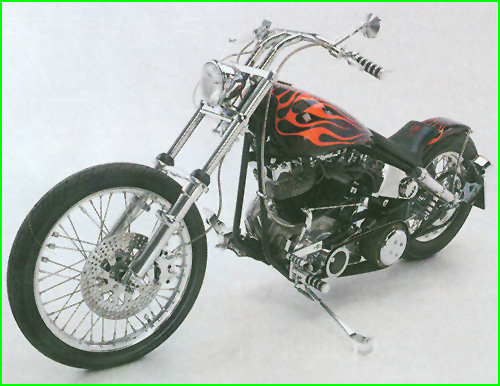 Recently, along with several other movers and shakers in this industry, I met with the SEMA officials regarding the recent trend California's taking in wanting to smog motorcycles. SEMA is actually open to, and wanting to, bring the motorcycle manufacturing under the SEMA umbrella, giving us access to their lobbyists and legislative team, It's a very important issue right now."
Another ambition of Kirk's is the research into hydrogen possibilities of motor manufacturing. "As it stands now," he says, the government wants you to be 'compliant'. I want to be 'exempt!' If you can manufacture a hybrid motorcycle, then you're exempt from all the ridiculous legislation they're trying to pass." Now, that's some- thing we should all try and get behind. I want to be a 'part' of this industry and know as much as I can short of being called an 'expert.''' And why is that? "As my dad told me many years ago 'an ex is a has-been and a spurt is just a drip under pressure."