"Addicted to Butt Floss"

SPLIT TAIL
text by Cheese Floss - photos by Mike Chase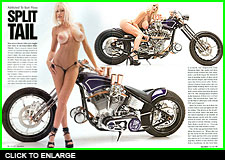 You Never know who you might run into at an Easyriders Bike Show That's exactly where Kirk Taylor of Custom Design Studios in Novato, California, met James Hetfield (that's right, the rock legend, James Hetfield of Metallica) back in January of 2000. These two guys shot the shit about bikes for a couple hours and James agreed to ride along to the phot shoot of Kirk's "Suicide" bike. Before you know it, Custom design Studios was commissioned to rebuild one of Jame's bikes.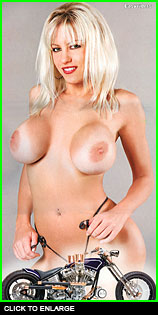 Kirk and James decided to design and build a few choice rides together, and they are especially proud of this one since everyone else seems to like it so much, too. Inspired by early European bikes, the sparks and ideas began flying around the CDS shop. James and Kirk began the maniacal task of grinding shards of sheet metal into various shapes and tossing them onto the fabrication table. Kirk's cheap Chinese bead roller met it's match while working sheets of tin into these tanks and had to be replaced with a more robust unit from the good old USA. The ensuing lunacy resulted in the formation of these very cool fuel tanks. The attention that "Split Tail" (as the bike is called) gets is the official CDS seal of approval.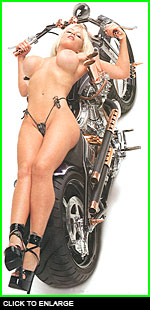 Don't be scared. Get on in there for a closer look so you can appreciate the sin within. "The devil is in the details" don't-cha know. James and Kirk have this marvel machine as an example of what anyone with the combination of vision, fine art, craftsmanship and a Custom Chrome catalog. Take Kirk's word for it, "Custom Chrome is the bike builder's home."
One of the top questions Kirk hears about this project is, "Where did you get the metal for the top frame member?" Kirk and his CDS crew welded two pieces of 1 1/2 inch C-channel together, drilled it and, behold, this hole-y backbone on the first bike unholy enough to wear the name Split Tail. This secret cut-and-splice technique is but one of the many skills that flourish at CDS. These over-and-under-shotgun pipes began a life as a set of Supertrapp X-Pipes and just like the Chica Gooseneck frame from Santee, everything gets a chance to feel the love. Are ya feelin' it?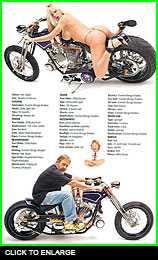 Kirk knows that gearheads are gearheads, regardless of the number of wheels something has. That's why every bike that rolls out of CDS has a heapin' helpin' of hot rod heritage. Finding his inspiration from virtually every type of machine that he sees, Kirk said that you will see ideas on his bikes that were harvested from cars, trucks, planes and even Japanese bikes. "It's okay," he told us. "Many of us grew up on rice and eventually graduated to pork."
Kirk doesn't usually build machines with tires wider than 200 millimeters, but planning to try something a bit wider, this concept was allowed to go in many different directions. Kirk advises other bike builders to "Be willing to try different things." he sees too many talented people getting caught up in the latest fad and he says they get stuck in a rut because of it.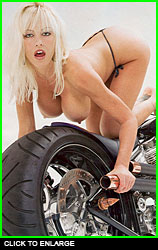 What a great life Kirk leads. He told us,"Ya get up every morning and open the doors to your studio where you get to throw sparks around, make really cool special machines and have girls with a butt floss addiction hanging all over your bikes. Before long, it seems everyone is telling you what a lucky fucker you are." Check out CDS' website www.customdesignstudios.com and see if you don't agree that Kirk is indeed one lucky fucker.
Speaking of split tails, we tapped the talents of this month's Fox Hunt winner, Desiree, and found out that she is much more than meets the eye. Desiree is an entertainer who can be seen on the East Coast and she makes her own butt floss too. No really. How she stretched one of Kirk's "Lucky Fucker" tank tops (size small) over those big ol' titties of hers is beyond imagination. When she got done testing it's burst strength, she converted the shirt into a T-back for her stage show. Now that's talent.

Owner: Kirk Taylor
City: Novato, California
GENERAL
Fabrication: Custom Design Studios
Model: 2006 Split Tail
Build Time: 10 Months
Chroming: Meclec Inc.

ENGINE
Year/Model: 2006/RevTech
Displacement: 110 cubic inches
Cam: RevTech
Carb: Weber Dual downdraft
Pipes: Custom Design Studios

TRANSMISSION
Year/Make: 2006/Baker

PAINT
Molding: Custom Design Studios
Painter: Kirk Taylor
Type/Color: Dupont Hot Hues/Purple Rhapsody
Special Paint: Striping by Courtney Shamach

FRAME
Year/Make: 2006/Santee
Type: Gooseneck Rigid
Rake: 38 Degrees
Stretch: 2 inches out
Shocks: N/A
Modifications: Custom Design Studios

ACCESSORIES
Bars: James Hetfield
Handlebar Controls: JayBrake
Fenders: James Hetfield
Headlight: Custom Design Studios
Taillight: LA ChopRods
Speedo: N/A
Pegs: Billet 4U
Foot Controls: Billet 4U
Electrics: Custom Design Studios
Gas Tank: Custom Design Studios
Oil Tank: Custom Design Studios
Seat: Don Clancy
Mirrors: N/A
Grips: Custom Design Studios

FRONT END
Type: springer
Extension: 4 inches
Triple Trees: stock
Builder: Jammer
Modifications: Custom Design Studios

WHEELS
Hub: RST
Size: 21-inch front, 18-inch rear
Tires: AVON
Brakes: RST