"Chrome and Passion"
text by Rick Polito
photos by Frankie Frost
"Getting ready for motorcycle show is quite a ride for Novato custom bike builder"
Kirk Taylor leans close to the deep luster of paint and pinches the small protrusion of slick black hydraulic line protruding from the frame of a show bike in the final stages of assembly.
The line pulls smoothly from the tube Taylor had grafted into the frame to hew to the minimalistic aesthetic. He smiles.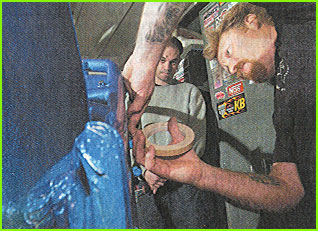 "Isn't that a thing of beauty?" he asks.
The custom motorcycles Taylor builds in his Novato shop may be bold statements of rolling flash and sizzle, but it is the little things, like a brake line that feeds smooth from the frame, that make a bike more than a pile of chrome and lacquer, he says.
And it is those little things that are on his mind right now. A week before he has to roll a finished bike into the San Francisco Rod, Custom and Motorcycle Show at the Cow Palace, the bike needs to be bolted together, the culmination of hundreds of hours and a vision. "Right now, I'm just trying to make the parts pile smaller," he says, reaching for another wrench.
As in so many other pursuits, the devil is in the details. But the devil in these details is probably screaming and wearing a top hat, breathing flames.It is an aesthetic not shared by all but thepassion was kick-started into the mainstream by shows like "Biker Build Off" and "American Chopper".
The bikes are be treated as art now.
And that's the way Taylor has always approached it.
The 47-year-old force behind Custom Design Studios in the Bel Marin Keys auto repair district was raised in Marin with motor oil in his veins. "I grew up in a machine shop," he says, proudly recalling his father fabricating front end parts for motorcycles in the 70's. He had aspirations as a graphic artist -- "I wanted to do pin-ups", he says -- but the oil and chrome was real work with real wages. He opened his own motorcycle shop in 1988 and built a clientele and had a reputation in the custom bike world, one detail at a time.
In the paint shop, around the corner from the show bike, the details are being laid out in tape on another work in progress. Taylor is building a motorcycle for a San Jose client and the blue silver flecked frame is ready for pinstriping. Taking a break from the show bike, Taylor closes one eye to gauge the line. "Does that look straight?" he asks, turning to Courtney Shamach, who does the pinstripe work.
Both men debate the "scallops" and "fishhooks" that anchor the pinstripe aesthetic. Peering from different angles and running his thumb along the fat blue frame, Taylor has it laid out.
"That's our line right there," he declares.
Building a bike -- this one will be called "Sancha" -- requires a multitude of skills, not all of them hands-on. When a client comes to Taylor with a wish list of ideas, it becomes his job to interpret those ramblings. The buyer might have a theme. He might have a sketch of an idea. It might be more vague than that.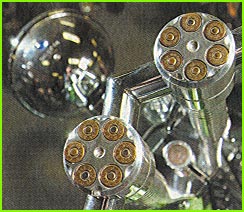 "They've got a dream, an intangible," Taylor says. "Now you have to be a mind reader."
Every bike is built on a mountain of choices, right down to the color of the bolts.
Andrew Kahn of Tiburon brought two bikes through Taylor's shop. Kahn claims few outside the bike world know how much goes into acustom bike. "When I started thinking about building a bike from scratch, I was kind of overwhelmed," he says. "It's like building a house -- how do you decide what to do?"
And those choices have to work at highway speeds. Taylor's art is framed in internal combustion, brakes and bearings.
"One moment I might be a psychologist trying to get in somebody's head," Taylor says. "The next moment I might be an engineer."
A week before the San Francisco show, the psychologist and the engineer have surrendered the stage to the mechanic. The bike Taylor is finishing is named "Heaven Sent and Hell Bent." He declares it a statement in "the eternal struggle between good and evil."
"It's my wife's bike," Taylor says. "That's the story."
Which spouse claims riding privileges is of little matter in the moment. Show bikes like "Heaven Sent..." are the result of endless hours of design, fabrication, paint and wrench work. "It's easy to get 700 to 1,000 hours," Taylor says.
The last hours, the last week, is the true crush. Taylor knows the shop lights will be on past midnight the night before he trucks it to the show. "I took Christmas day off, and worked Christmas Eve and New Year's Day," Taylor says.
The work does not go without notice. Taylor's bikes make it into the motorcycle magazines. His show bikes winprizes at the big shows. "Split Tail," a bike Taylor built up with Metallica rocker James Hetfield made a splash. His personal bike, "Booger," is in the coffee-table photo book "Art of the Chopper" along with a portrait of Taylor and his air brush.
Rich Fulk, a product manager at Custom Chrome, a parts company in Morgan Hill, says Taylor's talent and versatility are well known in the industry. His bikes are unique. "They definately have a really old-school vibe to them, but if you get up close and personal you see a lot of new high-tech touches," Fulk says.
And in an age when bike builders are grabbing the spotlight, Taylor's personal touch is adding to his reputation, Fulk says. Choppers might be trendy -- "I knew it was beyond that when my grandmother asked me about the TV shows" -- but Fulk doesn't see Taylor worrying about getting any screen time.
"When this whole thing settles back down again, and the waves drop down, you'll see shops like Kirk's will still be there."
With "Heaven Sent..." still in pieces, Kirk isn't worried about any of that. He's just turning the wrench.
It's coming together, the vision rendered in steel, but it's coming together slowly.
The brake line emerging from the frame was a "thing of beauty," but the fitting for that line isn't threading in correctly.
"Why is this thing bottoming out?" he asks, fiddling with the chrome bolt.
It's the little things that make a bike.
And Kirk Taylor has a lot of little things, all shiny in chrome, left to go.