"Johnny Chop Tribute"



Good Deeds Beyond Death - by Greg Friend
photos by Greg Friend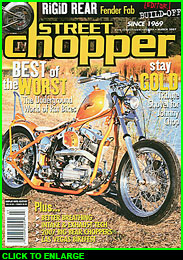 Back in 2005, Horsepower Promotions asked Mitch Bergeron, Count's Customs, Custom Design Studios, and Johnny Chop to build a bike during the hours of their motorcycle shows set in a few different West Coast events.
Just before the 2006 season started, a tragedy occurred -- Johnny died, which created an idea in the minds of the remaining builders. They decided to build a bike that they thought Johnny would like, using his past bikes and the 70's as inspiration and keeping their word to Johnny. Instead of making any money on the bike, Seth Doulton of Horsepower Promotions and the builders decided to raffle the bike off at the Grand National Bike show and give all the proceeds to a charity chosen by Johnny's parents.
The combined builders started at the Santa Maria Motorcycle Madness show with a Paughco rigid frame with a 1 3/4-inch stretch in the downtubes and 30-degrees of neck rake. A stock '74 FXE narrowglide 35mm frontend was bolted to the frame, along with H-D spoke wheels and Avon tires -- a 19x2.25-inch in the front and an 18x3-inch in the rear. Brakes for the bike consisted of a '74 single piston H-D and a PM 4-piston caliper.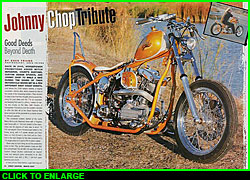 There was no such thing as an Evo production motor in the 70's, so the builders chose a S&S 93ci shovelhead. The all-S&S mill was fitted with a Custom Design Studios customized air cleaner cover and exhaust pipes connected to an S&S transmission case with a BDL 1 3/4-inch open beltdrive and clutch.
In true Johnny Chop fashion, a gas tank dug out of someone's garage resembled a stretched bowling ball and was topped off with a gold-plated gas cap from LA Choprods. A Chica ribbed rear fender was attached to the frame with a sissy bar that doubled as a fender strut. Finally, a chromed Ohana Designs barrel style oil tank was attached underneath the seat area.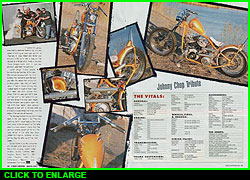 Custom Design Studios handled the molding and painting of the bike. After serious discussion with the other builders, they decided to paint the bike gold after the tattoos that Johnny had on his knuckles -- Stay Gold. Kirk Taylor, owner of Custom Design Studios, shot multiple layers of House of Color Pagan Gold mixed with thick rainbow metalflake. Then he used gold leaf to spell out "Stay Gold" on both sides of the gas tank and striped it to keep clean edges. All that remained was a seat to match the rest of the bike. Bitchin' Seat Company designed a chromed seat pan stitched to a tooled white leather top cut so the edges of the pan are left exposed.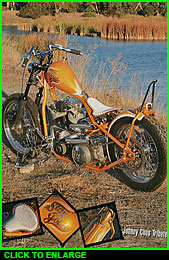 The bike was finished the day before it was taken to the Cow Palace in San Francisco, California, for the Grand National Bike Show. Every penny of the proceeds from the raffle went to a heart research charity that Johnny's parents picked out for him. The lucky winner of the raffle was Vince DeFalco from Agoura, California -- a huge Johnny Chop fan who couldn't be more grateful.
Special thanks to all the companies who donated parts, labor, and time to this project including: Custom Design Studios, Count's Kustoms, Mitch Bergeron, Bitchin' Seat Co., S&S Cycle, Paughco, JIMS, BDL, Performance Machine, and Horsepower Promotions.

GENERAL
Owner: Vince DeFalco
Make / Year: Custom Design Studios, Count's Kustoms, Mitch Bergeron
Fabrication: CDS, CK, MB
Assembly: CDS, CK, MB
Build Time: 5 Months

ENGINE
Size / Type: S&S 93ci Shovelhead
Cases: S&S
Flywheels: S&S
Rods: S&S
Pistons: S&S
Cylinders: S&S
Heads: S&S
Cam: S&S
Carb: S&S
Ignition: S&S
Pipes: Custom Design Studios

TRANSMISSION
Year / Type: 2006 S&S / Jims
Case: S&S
Gears: Jims 4-Speed
Clutch: BDL
Primary Drive: 1 3/4-inch BDL

FRAME / SUSPENSION
Year / Type: 2006 Paughco Rigid
Rake: 30-Degrees
Stretch: 1 3/4-Inch Up
Swingarm: N/A
Rear Suspension: N/A
Forks: Narrow Glide '74 FXE 35MM
Extension: N/A
Triple Trees: H-D

WHEELS, TIRES, & BRAKES
Tires: Avon 19x2.15-inch Front; Avon 18x3-inch Rear
Wheels: 19-inch 40-Spoke H-D Front, 18-inch 40-Spoke H-D Rear
Brakes: '74 H-D Front, PM/H-D Rear

PAINTING
Molding: Custom Design Studios
Painter: Custom Design Studios
Color: Kandy Pagan Gold / Rainbow Metal-Flake
Graphics: Courtney @ Custom Design Studios
Chrome Plating and Polishing: OC Plating
Powdercoating: RS Performance Coatings

ACCESSORIES
Bars: Chica Z-Bars
Risers: Dog Bones
Hand Controls: PM / Tom Foster
Headlight: 4 1/4-inch CCI
Taillight: Sparto
Gauges: N/A
Electrics: CDS, CK, MB
Gas Tank: Custom Stretched Bowling Ball
Dash: N/A
Oil Tank: Ohana Design
Front Fender: N/A
Rear Fender: Chica Ribbed 5-inch
Fender Struts: CDS, CK, MB
Pegs: PM
Foot Controls: PM Old School
Seat: Bitchin' Seat Co.

THE SHOPS
Friends of Johnny Chop
Bitchin' Seat Co. www.bitchinseatco.com
Count's Kustoms www.countskustoms.com
Custom Design Studios www.customdesignstudios.com
Horsepower Promotions www.horsepowerpromotions.com
Mitch Bergeron Customs www.mitchbergeroncustoms.com
Johnny Chop www.johnnychop.com