"Shades of Futures Past"



Kirk Taylor's Classic Speedway Springer - by Paul Garson
photos by Michael Lichter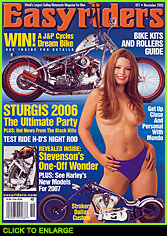 With everyone and their brother trying to build bobbers lately, it's hard to draw a bull's eye around a true example - a bobber apparently being something in the eye of the beholder. But when you sift through the historical facts a few salient points emerge: rigid frame, springer front end, 18-inch rear tire, bobbed rear fender, all bent toward performance. Of course, there were no Evo or Twin Cam motors back when bobbers first appeared, so today's interpretations take on the latest muscle, benefit from better brakes and electrics, yet to retain the essence of a true bobber, they have to evoke the right gut reaction response. So be it with Kirk Taylor's "Speedway Springer", a classy interpretation of a classic that shows all the right moves.
Before we let the dust settle on the chrome, Kirk makes sure to point out that bike building is a team effort at his Novato, California, shop, Custom Design Studios (CDS). Located about 20 miles from San Francisco, the CDS doors opened back in 1988, so it's been around before "old-school" and "chopper" became buzz words. And you might remember seeing Kirk's personal ride, a little lime green metal-flake rigid they call the Mean Green Booger that appeared in the February 2000 issue of Easyriders. As Kirk describes it, and something that extends to all his bikes, "It's a pleasure to ride and not a burden." More recently you might have seen the aptly named Widowmaker that took Best of Show at the Reno Easyriders Bike Show.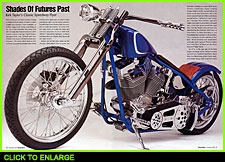 In 1970, at the ripe age of 10, Kirk began teething on his father's newly opened San Rafael machine shop that was fabricating girder front ends, eventually doing early work for Sandy Kosman. Already an artist and illustrator by 25, Kirk was painting everything from guitars to gas tanks. "It was kind of a natural segue from customers saying, 'Hey, after you paint my gas tank, could you put the gas tank on the bike so it doesn't get scratched and, oh yeah, change the cam while you're at it.' That's how it all progressed."
Asked about his bike building philosophy, Kirk explains, "I'm a big fan of old-school, even tho' that's been beat to death like the term 'chopper', but that's what I grew up around. I'm definately into the retro field. We've done fat tired bikes, but my personal passion lies toward a 200 or smaller rear tire, the low-slung look and the idea that less is more. And I love springers to death. One comment we get is that our bikes look rideable. And they are; a matter of form and function."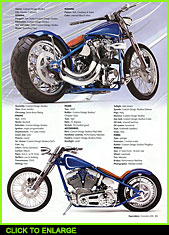 One of the factor's contributing to the "Speedway Springer's" exceptional handling is the bike's geometry: a combination of 1 1/2-inch backbone stretch, 35-degree rake, a 2-inch under springer, a 21-inch tire up front, and an 18 rolling on the rear, plus a set of flat bars that fall into your hands naturally. And this bike's got the cosmetics to match including its elegant oriental blue and silver paint and very tasty candy black powdercoated girder and brakes. "I feel fortunate in that I'm able to offer a client a broad background in experience, both in what's artistic and functional. I know what works and what doesn't. I build bikes that are solid and timeless."
The Speedway Springer has claimed its share of accolades taking Third Best of Show at the Sacramento Easyriders Bike show and also placing at the grand slam Columbus Invitational. "We made it to a few shows before the client wanted to take it home. We haven't seen it since."
However, Kirk can build more along its classic lines and he's also thinking of putting together a bobber kit based on the bike.

GENERAL
Owner: Custom Design Studios
City: Novato, California
Designer: Kirk Taylor / Custom Design Studios
Fabrication: Custom Design Studios
Year and Make: 2005 Custom Design Studios
Model: Speedway Springer

PAINTING
Painter: Kirk, Courtney & Taylor
Color: Oriental Blue & Silver


Assembly: Custom Design Studios
Time: three months
Chroming: Santa Rosa Plating

ENGINE
Year: 2005
Model: RevTech
Rebuilder: Custom Design Studios
Ignition: single/programmable
Displacement: 110 cubic inches
Lower End: solid
Pistons: round
Air Cleaner: Custom Design Studios/Carl's
Cam: big
Lifters: Harley-Davidson
Carb(s): Mikuni
Pipes: W.C.C. w/Hi Temp
Mufflers: you're kidding
Transmission: 2005
Shifting: foot

FRAME
Year: 2005
Builder: Custom Design Studios/Chopper Guys
Type: rigid
Rake: 35 degrees
Stretch: 'til it looked good

ACCESSORIES
Bars: Custom Design Studios/Paul Yaffe
Handlebar Controls: Performance Machine
Fenders: Custom Design Studios/Chica
Headlight: small
Taillight: side mount
Speedo: Custom Design Studios/Dakota
Pegs: Holy
Electrics: Custom Design Studios
Gas Tank: Custom Design Studios/Coles
Oil Tank: unusual teardrop
Oil System: functional
Seat: Goldsmith Saddlery
Grips: Holy

FORKS
Type: springer
Extension: 2 inches under
Builder: Custom Design Studios/Paughco

WHEELS
Size: 21-inch front; 18-inch rear
Wheel: Landmark
Tire: Metzeler
Brakes: Performance Machine