A LIFE CUSTOM DESIGNED



story: Gene Leonard photography: Jay Watson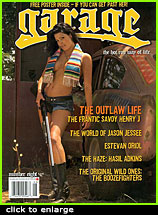 Kirk Taylor owns a shop called Custom Design.
And a life by the same name.
How many of us get to do exactly what we've always wanted to do? Really, now - most folks will say, when asked about their passions and their loves and the things that give them pleasure and a sense of fulfillment, they don't have much time for them. Or that they look forward to a precious 2 weeks a year or a day every other month when they get to finally unwind and take the ol' Chris Craft out. Or strap on the hot dog suit and the roller-skates.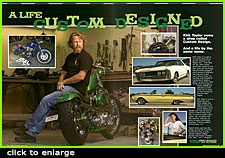 Kirk Taylor is one of those rare and lucky dudes who gets to answer his calling every morning he wakes in Novato, Ca. Yes, he owns a custom motorscotter shop. Yes, he owns a custom paint studio. Yes, he builds mild 60s customs. And yes, he owns a custom fabrication business. There's a pattern forming here, no?
Taylor's shop, just over the bridge and up the road from Sucker-Free City, is aptly named Custom Design Studios and there's a reason that "bike", "rod", "chopper" and "rides" aren't in the name. "I grew up in my dad's machine shop," Kirk explains, "and I was exposed early on to custom fabrication when it came to bikes and choppers. But I always liked seeing what could be done with cars, as well." There was also a side to Kirk that hadn't been fully realized yet. After working with his dad till that shop closed in the mid-Nineties, Kirk decided it was time to explore more of his design sensibilities and enrolled in art school. After spending a few years fine-tuning his craft, Taylor figured it was time to strike out on his own and opened Custom Design Studios. And contrary to the way most shops are run, CDS specializes in keeping every step of the build in-house. "We do it all," Kirk goes on, "I couldn't see sending out for paint or engine work or other parts of a bike project. I do the paint and the machine work, bodywork and everything else is done right here. All under one roof. Well, now it's two roofs!"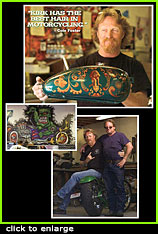 Not only is there a wealth of talent under those two roofs, but it's all orchestrated by one of the most genuine souls in the business. Folks from parts outside of California will notice what is commonly referred to as 'that California laid-back attitude' emanating from every corner of the place. And that most definately can be attributed to a man who is comfortable in his skin and proud of his station in life.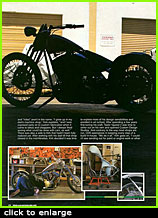 That comfort and self-assurance is also responsible for creations that are slave to no particular style, trend or narrow focus. "Oh, we'll build anything. I've grown up through a whole lot of periods of bike design and custom car styles. And I can appreciate peoples' desire to own something that hey've always wanted or whatever." Translation: Kirk just doesn't have the kind of chip on his shoulder that would intimidate someone from walking in and asking questions about what they've always dreamed of riding. Or driving. But, let it be said that one would be well-served to just give Kirk a general direction of a particular project and let him handle the details.
Any good artist will do their best work if left to their own devices. And Kirk is no different. From a tagging party he hosted in his shop that produced some amazing murals by the likes of Kool Hand Luke and "some really good street taggers we picked up in San Francisco," to rare and unusual examples of outlaw chopper paint and some super-secret projects that he's working on with some super-secret talent, there are about as many different disciplines of automotive design, art and just plain ol' creativity leaking out onto the street in front of Custom Design Studios as there are warm bodies toiling away inside.
Kirk wouldn't have it any other way. It can be said that good design can be applied to anything. A car. A chopper. An engine. And, most definately, a life. -Gene Leonard