Make It, Then Name It



by Ernie Lopez (story by James "Papa Het" Hetfield) photography: Ernie Lopez

Making A Widowmaker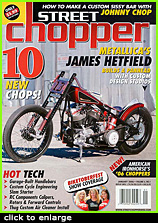 "Do you come up with a song's title before you write the song or after?" The response to my question for James "Papa Het" Hetfield was this: "The subliminally evasive answer has always been both. Though it truly depends on the inspiration."
Definately the type of answer a musician would give. In the case of naming this particular bike, James answered with a question, "Do you name your pet before you witness its character?"
While listing on a piece of scratch paper a few of the activities the bike would need to be able to handle -- dragging, hill-climbing, and flat-tracking -- the bike's character began to reveal itself to James. Not only that, but James lovely wife took one look at a rough sketch of it and said, "It looks like you could die on this thing, honey." And so, the moniker "Widow Maker" seems to fit.
Basically, those were all the qualities that James wanted to see in a bike. Low, stretched rear; clean, stock-rake front end with no frills; all while having the ability to be ridden hard. Obviously inspired by the hot rod world he obsessively inhabits, the drilled I-beam was the first major piece in beginning to define the bike's identity.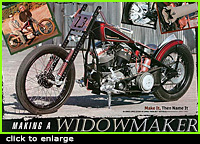 Long-time friend and "Build-Bro," Kirk Taylor of Custom Design Studios in Novato, California, got the hookup with CCI to sponsor this bike. James had very little time between music and motors, so he called on Kirk to use an empty lift for the bike build. Working alongside Kirk, ideas inspired more ideas -- the two worked so well together that Widow Maker came to life quickly.
We asked Kirk, "So tell the truth, how much cutting and grinding did James actually do?"
"All of it," was the answer. "He's not just some celeb' who attached his name to the build for marketing rights. Few know how much James loves what he calls 'garage therapy.' He is a big-time car guy who's into hot rods, muscle cars, and the classics, along with a love for bikes just the same. The only difference is that although James has worked on them, he has never had the time to build one from the ground up."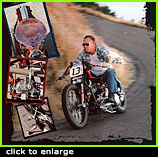 About 600 hours was put to good use creating something that will actually wear a street legal license plate. James and Kirk have designed bikes together before, but Jmes has never had the time to his hands on the actual build until now. James remembers the feeling when they first got the front end together; he was amazed that it actually worked. Kirk remembers turning to him and saying, "Well, of course it works."
Starting with the front end, the bike's origin came while James was thumbing through some old bike mags and found an ad from the '70s that had a reverse springer. It was a Denver's springer setup that Mondo had done on his own bike. James thought, "Well, if it worked on the top, it should work on the bottom." That made room for a clean lookin' front face. Longer rods were built, as well as Heim joints for flex. The front racing number plate hides some wiring, and brutally bright headlights were tucked away to blind slow drivers. No front brake for that "yer gunna keell yerself!" look. Handlebars were stock Sportys hacked in half and now flown upside-down. Gas tank was a zombie tank sectioned and concaved on each side. An old Eelco pop-top and external clear tubing for a gas gauge and/or crossover wre added to finish off the tank. The amazingly detailed script was not the easiest thing to attach either.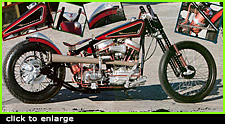 The RevTech Pandemonium engine is outfitted with a finned recast of an old knuckle snorkel air cleaner. James had to have running boards for big-foot comfort, but something not too big. A set of Mooneyes gas pedals did it right. They carried the waffle grip look into the brake pedal, kicker, and foot shift.
Next, James had to raise the transmission 1.5 inches to fit the battery under it, and it allowed him to swap the shifting linkage upside-down for a speed shift of one up, three down for goin' through the gears mighty quick. He also wanted to keep the backbone motor mount exposed; this meant moving the coils. Under the seat was different for sure, trying to give it a race look with longer spark-plug wires.
One of the few things not provided ny CCI was the oil bag. Kirk told James that a NOS bottle would be cool for an oil bag if it were mounted up right so that all the fittings would still work and not steal any extra space. Going from bike builder to plumber so that he could bend hard lines for it was quite a different experience. We'll just say that it's a good thing copper lines come in a 100-foot roll.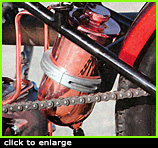 Some rat bikes that were seen rolling around Paso Robles car shows inspired the seat. It was a solo seat which was soon relieved of its leather skin and was drilled out to look like a Jason hockey mask. The "lost art" of engraving certainly upped it a class or ten. The seat springs were old car valves and springs Kirk had in the shop, and which serve to further blur the lines between hot rod and bike.
Scoring half of an unused vintage peashooter fender helped carry the '40s look to the rear. Also inspired by some rat bikes was the '50s Schwinn (yes, Schwinn) cruiser phantom headlight modded to use as a taillight with its near perfect curve.
To get the stretch in the rear, the curved frame from the top seat mount back was replaced with longer straight tubing then fused together again at the axle mount using Heim joints that could thread back the axle an extra 2 inches if needed (extra chain not included).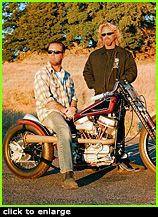 Sprockets are machined sproters -- one side for the chain, one for dual brakes. Brakes consist of two single calipers on a hand-made bracket. The hand-brake's wiring is not hooked up to the taillight for those quick slowdowns in front of Mr. Highway Patrolman.
Paint and finish was kept to the "if it shines, unshine it" approach. A deep copper paint was mixed up in the lab by the mad paintist, Dr. Kirk Taylor. Then, whatever wasn't black powdercoated was either flat silver powdered, copper-plated, or Scotch-Britened. It was not long after the bike rolled off the lift that the flip-flops come off, the boots went on, and the bike was out the door and on the streets.
When we asked James, "Is this the last, or the first of many?"
His answer: "All my respect for the small shop, hands-on craftsmen who massage metal with sweat and God-given talent has risen to new heights. And the response around Widow Maker from such builders has blown me away, much appreciated. Hopefully this project will inspire the 'I-couldn't-do-that' guy out there to try it. Not the bolt-on, cookie-cutter theme bikes you see on TV, but an 'I'm-gonna-cut-this-and-put-it-on-right-here-in-my-gargae" bike'."
Widow Maker is a bike that James built with heart, passion, and a whole lot of "what-do-you-mean-it's-not-done-that-way
We know it's not his last.