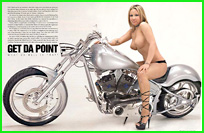 March 2005 Easyrider...
Get Da Point
Kirk Taylor grew up around a machine shop and developed an affection for bobbers and choppers at an early age. He has always loved riding, but Kirk discovered how serious he had gotten about building bikes after out-growing his garage 12 years ago in Novato, California.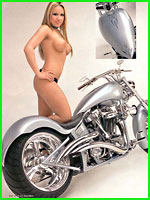 He rented the space next door and a couple of guys started helping him out once in awhile. Soon it was more profitable for everyone to do their own thing. At the same time Kirk continued to expand his operation by attracting talented artisans and renting them a space nearby.
Today, Kirk's neighborly assemblage of motorcycle craftsman form Custom Design Studios. A custom bike from CDS always gets the right kind of attention. A case in point is the sweet silver scoot shown here.
Joe Murphy is a real estate finance guy who loves his toys and has money to play with. He happened to be in Kirk's neighborhood playing with one of his Porsche's when he saw Kirk's shop. Once he saw what CDS could do, he gave Kirk his bone stock Fat Boy to work on.
Joe liked what CDS did to the Fat Boy so well that he commissioned them to build a ground up custom that would reflect his conservative style and painted to match one of his Porsche's. Today, along with the bike Joe calls "Get Da Point", he has several other CDS rides in his garage in Scottsdale, Arizona.
Joe's crib is complete with a breath-taking view of Phoenix, a 132 inch projection TV and a brass pole in the corner for strippers. If only he could get this month's Fox Hunt winner, the lovely and talented Ms. Dallas, to rub a little polish on that pole.
Many talented hands worked on Joe's Get Da Point bike. There are the three Don's: Don Clancy, who made the job of fabricating look easy, Don English, the main mechanic who made sure things were always happening regardless of where the team was with the project, and Don "Throne Guru" Huddleston, who shoehorned his perfectly covered seat pan into the molded recess of this modified Paul Yaffe frame.
And there was also Matt the prepper, who did loads of sanding to get all of the molding ready for paint and the guy who shot the base coat, Gary, who is one of Joe's martial arts pals. But none of the things CDS does would make it if it were not for Kirk's wife Lisa, who is the drive behind it all.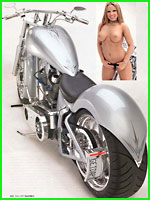 Joe hasn't been seen riding anywhere much, but it is often parked outside Christie's, his favorite strip joint. CDS does really well at bike shows and they've opened a can of whoop ass on some of the heaviest hitters in bike building.
Kirk can put together any ride your heart desires. Speaking of desires, our Fox Hunt winner Dallas from Northern California makes this silver scoot all the more desirable.
-Cheese Spread