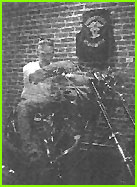 Classic Bikes Roar into San Rafael...
There's nothing quite like straddling a Hog.
Harley-Davidson has been building motorcycles that deliver all the right vibrations for their devoted customers since 1904.
But it wasn't until after World War II, with the advent of the hot rod craze, that inventive bikers began to chop, customize, and otherwise tweak their machines into fantastical creations.
But are these creations an art form?
Ever since the unprecedented success of the Guggenheim Museum's motorcycle show in New York City in the summer of 1998 the art of these two-wheeled wonders has been gaining respect.
In the past, such famous artisans as Peter Max and Sonoma's own Stanley Mouse - of Fillmore poster fame - have tried their hand at designing or painting the tanks of these all-American Icons.
Now you can judge the artistic merits of these customized Harleys for yourself at Art Works Downtown in San Rafael. In a show titled "Art Cycles: Custom Cycles and Artifacts," six, full blown choppers and one vintage Harley Topper motor scooter are displayed like modern sculpture.
In the Spotlight.
Under lights usually reserved for paintings, the bikes shimmer like visions of chrome and paint. Most of the Harleys are for sale and cost from $13,000 to $30,000.
Carol Durham of San Rafael installed the show, and feels the machines are not out of place in the gallery setting.
"If the Guggenheim can do it - why not us?" says Duhram. "I must admit that at first I wasn't really sure if motorcycles could be classified as art - but after staring at them for a while I can defiantly see an element of abstract painting in these bikes."
Kirk Taylor, owner of Custom Design Studios in Novato since 1997, painted most of the bikes in the show. Taylor's work is at once subtle and outrageous.
The bikes make a flashbulb impact at first glance, but only after close examination do you become aware of the painstaking detail.
On a bike called "Suicide", there are dozens of human skulls buried deep within the 25 to 30 layers of paint and clear coat.
"My canvases are on two wheels" Taylor says, "These Harleys are rolling art. I try to blend color and metal into something functional and exciting."
But Taylor has no desire to turn these machines into static sculpture. All these bikes in the show, no matter how outrageous, can still be ridden by their owners.
"If you can't hit the street with a bike - then what good is it?" says Taylor.
Still, Taylor doesn't seem to limit his imagination to anything approaching the purely practical. Some of the bikes in the show look like they would require a contortionist to mount. With handlebars and shifters flaring up in a classic "Easy Rider" fashion, it's clear "cool" has prevailed over function.
Bad to the Bone
"The Harley is an ego machine.' Taylor says. "It's and extension of the clients personality. I try to get inside my customers head and discover what they like."
For Jacque Charton of Novato, owner of "Suicide", that meant the aforementioned skulls and a lot more. The whole process of custom bike creation appears to be a spontaneous collaborations between owner and designer. Much of the preliminary work seems to be done on cocktail napkins.
"I knew I wanted flames and sort of a Ferrari Yellow," Charton says. "But after I made a few suggestions, I just stepped back and let Kirk do his thing. The yellow we ended up with is Kirk's own creation. He's the absolute master of color. When I first saw the bike the skulls were a total surprise."
Larry "The Hat" Lautzker, who also has a bike in the show and keeps his Harley on the floor of his Mill Valley clothing store, things an art show of customized bikes is long over due in Northern California.
"The guys who paint these bikes never seem to get the credit they deserve," Lautzker says. "I think Kirk is a true artist and one of the best at what he does."
Braith Cleary, a dental technician, has a pearl white Harley in the show. His bike appears almost conservative when compared to the other machines surrounding it.
"It's interesting to have my bike in a gallery like this," Cleary says. "Most of the time you only see customized motorcycles at roadster shows. Some of the parts on this bike, I cast myself using the lost wax method. Other parts are carved out of solid blocks of aluminum. To my mind, that's sculpture."
Paula Bailey, director of the Downtown Art Center, said the show had a tremendous response.
"Because we are an underground gallery, were always looking for nontraditional art to show,' Bailey says. "We've seen quite a crossover of interest in Art Cycles. We've had motorcycles lovers looking at art and art lovers looking at motorcycles.
The Downtown Art Center housed in the historic Gordon's Opera House, which was built in 1870, is part of Art Works Downtown Inc. The charitable center for the arts was founded in 1996 and is supported by grants from the Marin Community Foundation.
"Art elevates a neighborhood," Bailey says. "We're definately experiencing a renaissance in downtown San Rafael at the moment, and we feel that we are a great part of that. As a nonprofit organization we serve both the artist and the community."
Friday June 2, 2000 San Francisco Chronicle