Aerodynamic Artistry ...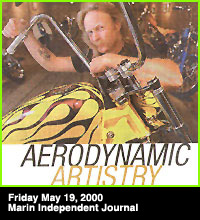 Kirk Taylor's artwork may have passed you in traffic today.
Taylor's art has wheels. "My canvases are different", says Taylor, astride one of his "canvases", a screaming yellow Harley Davison Chopper he calls "Suicide." Taylor builds, modifies and applies elaborate paint schemes to make rolling statements out of "bits and pieces put together."
Taylor's motorcycle art and some other pieces from the roaring two-wheeled world are being shown at the Under-ground Gallery in San Rafael in a show called "Art Cycles." As the hot rods cruise Fourth Street in tomorrow's "May Madness" car parade, Taylor's motorcycles and other icons of the motorcycle lifestyle will gleam under the bright gallery lights.
"Art Cycles" curator Carol Durham calls motorcycles fertile ground for expression. "They are an expression. For a motorcycle enthusiast, it's probably an expression of freedom and individuality."
The idea for the show started in talks at Art Works Downtown, a non-profit art advocacy group that runs the gallery and keeps it as a place for stretching commonly accepted definitions of art. Durham wasn't sure motorcycles were art "until I started looking at them."
"When you take a look at those motors, you take a look at the design, and they can be like tremendous abstract paintings."
For Taylor, it's creativity - turning ideas into reality. "You take an intangible concept and turn it into something that they can ride down the road," Taylor says.
That can mean more than just applying paint and bolting on chrome. When a customer comes to his Novato shop and starts talking to Taylor about customizing his bike, Taylor has to crawl inside their personality to match the dream with the dream bike. "Sometimes they just come to me with a concept,' Taylor says. "The psychological aspect plays into it a lot."
Taylor found art before he found motorcycles, but he finds the two worlds blend well. His father was a machinist - "I grew up in a machine shop" - and he took art lessons from local hot rod enthusiast Casey Poole, who has a painted motorcycle tank in the show. He later studied art at College of Marin with dreams of being an airbrush artist but quickly learned that professional illustrator jobs weren't easy to come by. By combining his knowledge of motorcycles and painting techniques, he could express himself and pay his bills.
Bike owners pour $35,000 into their show bikes. Taylor's bikes win trophies in bike shows. One of the bikes in the Underground Gallery will be featured in Easy Rider Magazine.
And all of them are road worthy. They aren't, as Taylor says, "Trailer Queens" that get hauled from show to show.
"It gets used," he says of his art. "It does not just hang on the wall."
He sticks to classic motifs much of the time - "I learned that you cant go wrong with skulls and flames" - but he is ready to argue with everybody who would call it less than art.
"I'd say 'define art'… if you start putting parameters on art then you start restricting the flow."
Friday May 19, 2000 Marin Independent Journal