August 2000 V-Twin Cover Bike...
99' Rigid Chopper
Dominican Flyer,
From Paper Napkin to Reality.
The seeds of this radical chopper were formed in the minds of two boyhood friends almost three decades ago and finally took form on a paper napkin two years ago. Talk about a long gestation period! "Back in the seventies, my best friend, Greg Zack, and I always dreamed about big bore Panheads and how one day, we would build one," says Jacques Charton, the owner of this dream come true.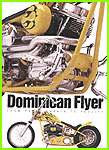 Fast forward a good 20 years, and the scene is a different one. Greg has since died, and after many years of riding and slowly graduating from rice grinders to Brits and finally to an old Shovelhead, Jacques ended up at a fork in the road most of us eventually come to and where we have to decide what our first custom bike is going to look like. He enlisted the help of two friends to come up with his stunning silhouette. "One day, two years ago, I was sitting around with my friends, shooting the breeze. One was the bike's painter, Kirk Taylor, the other was the engine builder, Norman Boeck, and together we started drawing on paper napkins."
Presumably fueled by several glasses of foamy brew, the trio soon gave birth to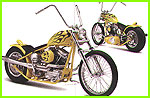 what would truly become Jacques pride and joy. "We built it mostly in my garage." says Jacques of this, his very first ground up project. "Whatever I could not do, or didn't have the right tools for the job, I farmed out to the pros. But everything on his bike was designed by us. And Kirk did an outstanding job with the paint too. You might not see it in these pictures, but under the flames, he put some skulls and skeletons and such, and in the light it truly looks awesome."
Apparently the judges at this years Easyriders Bike Show in Sacramento, California, were equally impressed, as the chopper ended up taking home the second prize in the Best of Show category. But Jacques also ended up going to the big one in Columbus Ohio, were he placed third in the In The Wind category. Not a small feat for a beginning builder.

"To me this bike actually represents the love of the individual, but it takes many individuals to accomplish something like this," Jaques explains.
"A lot of my friends jumped in to help." Even at his job in facilities at nearby Dominican College,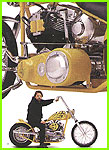 his coworkers assisted in various degrees, and as a sign of his appreciation, Jacques has placed the trophies he won at bike shows right on his desk. No, they apparently are not going to replace the friar's crosses.
Now that I'm done with the bike shows," he says, "I'm riding it a lot. That's what it's all about: having fun." Surely Greg Zack would wholeheartedly agree with that and give his old buddy his blessings from Harley Heaven.
| | | | | |
| --- | --- | --- | --- | --- |
| Owner: | Jacques Charton | | | |
| City: | Novato, California | | | |
| General | | | Transmission | |
| Fabrication: | Custom Design Studios | | Year: | 1999 |
| Year/Make: | 1999 Chopper | | Shifting: | Suicide Clutch |
| Model: | Rigid | | Paint | |
| Assembly: | Custom Design Studios | | Molding: | Kirk Taylor |
| Chroming: | Delta/Pilgram | | Painter: | Kirk/Custom Design Studios |
| Engine | | | Color: | Ferrari Yellow |
| Year/Model: | 1999 Generator | | Special Paint: | Candy Purple Skulls |
| Rebuilder: | Norman Boek | | Frame | |
| Ignition: | Twin Power | | Year: | 1999 |
| Displacement: | 96 Cubic Inches | | Type: | Rigid |
| Lower End: | S&S | | Builder: | Chopper Guys |
| Balancing: | Jim "Bubbles" Powers | | Modification: | 30-degree rake |
| Pistons: | S&S | | Accessiories | |
| Cases: | S&S | | Bars: | 16 inch apes |
| Heads: | STD | | Risers: | CCI, 3 inch |
| Cam: | S&S | | Controls: | Internal throttle cable |
| Lifters: | S&S | | Fender: | 9-inch flat |
| Carb: | S&S with Thunder Jet | | Headlight: | 5-inch flamed |
| Air Cleaner: | S&S | | Taillight: | "Dog Dick" custom |
| Pipes: | Custom Made TT Style | | Pegs: | Performance Machine |
| Forks: | | | Electronics: | Generator |
| Type: | Wide Glide | | Foot Controls: | PM Foot Clutch |
| Builder: | Custom Design Studios | | Gas Tank: | Rubber mounted Sporster |
| Mods: | Lowered shaved legs | | Oil Tank: | Exile Custom |
| Wheels | | | Oil System: | S&S/Goodyear lines |
| Front | | | Primary Cover: | 3inch guard with flames |
| Type: | Spool | | Seat: | Custom with Maltese Cross |
| Size: | 21 inch | | Grips: | Billet/ internal throttle |
| Tire: | Metzeler | | | |
| Brake: | None | | | |
| Rear | | | | |
| Type: | Exile | | | |
| Size: | 15 inch | | | |
| Tire: | Metzeler | | | |
| Brake: | PM 6 piston | | Photos: | Michael Lichter |