February 2002 Easyriders...
Green Booger
Custom Designs is a little hole-in-the-wall, one stop custom shop in the Bay Area, about an hour north of San Francisco, where they build the damnedest little old-school choppers you can imagine. Just take a look at this Booger-Green monster... well, actually it's Lime Green but the guys at the shop lovingly call the bike The Mean Green Booger (James Hetfield of Metallica came up with that one, according to Kirk). Low, rigid and bare-bones, it stares back at you menacingly from these pages.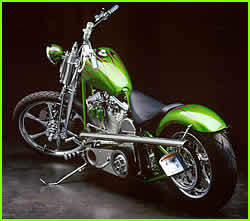 Of course, the old-school style is exactly what distinguishes this shop from any other in the area. It's simply in the blood of those who work there. "I grew up in a machine shop", says Kirk Taylor, Custom Design's owner and master painter. "My dad used to make extended springers and girders back in the 70's. He used to build stuff for Sandy Cosman and Ron Half and those guys back then."
The old-school style of this green machine is not only a passion for Kirk and his guys, it's also been a winning formula. "We started with Jacques Charton's bike," Kirk explains. Although they started collecting parts and accessories for the Booger right after returning from Columbus back in 2000, it only took'em about two weeks for assembly, according to Kirk, and it was ready in just the nick of time for last years Easyrider Columbus show.
It's mostly bold on stuff," says Kirk about the bike, "although it does have a few one-off features on it. Like, we fabricated some stainless struts and mounts on the Jesse James rear fender. My polisher buddy, Kim, machines the risers to match the springer front end, so it looks like coil springs all the way down. The axle covers are one-off... Also, the pipes are handmade, and they dump out on the same spot on either side. If you stand behind the bike you can hear them in stereo."
Everywhere the bike goes it steals the show, according to Kirk. Not only did it win a trophy at last years Colombus show, but "it trophies everywhere we go with it," he says. The latest trophy was garnered at the Rat Fink Reunion, where he registered the bike under his wife's name and she took home one of those little Rat Fink trophies." He still has the bike, by the way. "Yea, I just fell in love with it and couldn't get myself to sell it," he laughs.
Kirk painted the bike himself, and you have to wonder how he finds the time, considering he paints for a lot of the shops around the Bay Area, including Dudley Perkins in San Francisco. With a background in fine art and illustrative design, Kirk not only knows how to lay on some dynamic colors, he also has a good eye for what parts fit where. Together with his main wrench, Norman "Sluggo" Boeck, he has turned out a number of winners already.
In the works are "one of those 240 Metzeler-Performance-Machine-Trespasser-Yaffee-frame-Zombie-tank-Choppers," which he definitely wants to put up for sale, and smoothing with a twin Webber carb on it. "If it puts bread on the table, we'll build anything the customer wants, but we most definitely prefer old-style." Boogers and all.
| | | | | |
| --- | --- | --- | --- | --- |
| Owner: | Kirk Taylor | | | |
| City: | Novato, California | | | |
| General | | | Transmission | |
| Fabrication: | Custom Design/Jeff | | Year: | 2000 RevTech |
| Year/Make: | 2001 Customr | | Shifting: | foot |
| Model: | Long Chopper | | Engine Sprocket: | 3inch open belt |
| Assembly: | Custom Design Studios | | Trans Sprocket | stock |
| Chroming: | lots | | Wheel Sprocket | RevTech TSG |
| Engine | | | Paint | |
| Year/Model: | 2000 S&S | | Molding: | Kirk & Jerry |
| Rebuilder: | Norman & Bubbles | | Painter: | Kirk/Custom Design Studios |
| Ignition: | Dyna | | Color: | Lime Green metal flake |
| Displacement: | 100 Cubic Inches | | Special Paint: | purple flames |
| Lower End: | S&S | | Frame | |
| Balancing: | Jim "Bubbles" Powers | | Year: | 2000 |
| Pistons: | S&S | | Type: | wide tire Rigid |
| Cases: | S&S | | Builder: | Santee/CCI |
| Heads: | S&S | | Rake: | 30 |
| Cam: | 600 lift | | Accessiories | |
| Lifters: | S&S | | Bars: | Whiskey Bars |
| Carb: | S&S G | | Risers: | 6-Shooter custom |
| Air Cleaner: | custom design | | Controls: | PM |
| Pipes: | stainless handmade | | Fender: | Custom West Coast Choppers |
| Forks: | HD Springer | | Headlight: | springer flamed |
| | | | Taillight: | SIde Mount |
| | | | Pegs: | BDL |
| | | | Electronics: | Custom |
| Wheels | | | Foot Controls: | BDL |
| Front | | | Gas Tank: | Sporty Peanut |
| Type: | RevTech | | Oil Tank: | Keg Style |
| Size: | 21 inch | | Oil System: | S&S/custom |
| Tire: | Metzeler | | Primary Cover: | open |
| Brake: | HD | | Seat: | Motor Saddles |
| Rear | | | Grips: | 6-shooter |
| Type: | RevTech | | | |
| Size: | 16 inch | | | |
| Tire: | Metzeler | | | |
| Brake: | HD | | Photos: | Michael Lichter |