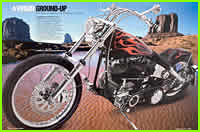 April 2002 V-Twin...
A Virgin Ground-Up
Kirk Taylor Is Helping The American Economy
Consisting of a myriad of different parts from a variety of sources, this radical rigid is indeed the epitome of a swap-meet special. But it's more than that. It's also Kirk Taylor's very first ground up construction, and as such, it holds a particularly sentimental spot in his heart. "I put it together, for the first time, in 1990," Kirk explains, "I even took it to a couple of shows, like Easyriders Vallejo Show back in '93, but back then, it was still purple."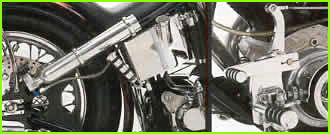 Apparently, the bike has undergone a number of changes since the first time around. "Back then I still worked out of my garage", the owner of Custom Design Studios says, "and I went to swap meets, I traded and bartered parts, and basically, I built the bike for about nine grand." He started off with a 1970 74-inch shovelhead motor, which he found at a Vallejo swap meet for around $2500. "Then I bought a Paughco frame for 500 bucks and that was the start of it. The wheels came from a swap meet, and the front end was off a brand new wide glide that I got from a friend for helping him with a Sportster project he was working on for a customer. I painted the frame and installed the motor, and then got the front end for it."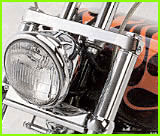 By doing a little bit at a time in his garage, Kirk was able to finish the bike in about eight months. But, that was just for the first go round. "after I rode the bike for four years, I sold the motor for the same amount I bought it for and parlayed that into an S&S Sidewinder kit. Together with my mechanic, Norman, I built up this monster motor with STD heads and Delkron cases, which technically makes it a 94 inch. But, it's still registered as a 1970 FLH."
For its third and current incarnation, the bike received a new paint job and the addition of a set of nitrous bottles.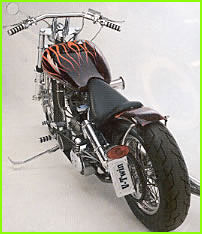 By then, Kirk was already firmly ensconced in what he calls his "hole in the wall," Custom Design Studios, and with Norman's help, created a truly one-of-a-kind chopper that's probably the quickest 70's rigid around.
"I've had this bike for 12 years now," Kirk Says, "but it's time to sell it now. It's only got 1,500 miles on a new tranny and engine, but there comes a time when you've got to move on." And move on he does, on his booger-green 2001 customs chopper he's fallen in love with (and can be admired in the February issue of Easyriders).
Sounds like a sales pitch? Hey, why not? This is America, and our pal Dubya says Americans need to buy more stuff to help the economy.
So, do your patriotic duty and give Kirk a jingle at 415-382-6662, Dubya will thank you.
-Todd Ernst