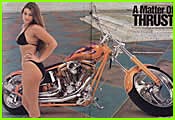 June 2002 V-Twin...
A Matter of Thrust
It Counts When You're Riding Like the Devil
Living large can be problematic if you don't have the right support to prop you up. Luckily for David Cesena, who, at 6 foot 5 and 240 pounds doubtlessly qualifies for the "large" category, he does have the right support, and you're looking at it. "But even on this bike, I look like I'm riding a toy," he says. "At least that's what people say when they see me."

This rigid is, however, anything but a toy. For one thing it's rigid frame was stretched 4 inches, giving some extra room in the leg department, and for another, its 96-inch S&S motor kicks some major ass. "It's fast, really fast," says David. "This first time I rode it, I put it in first gear, and took off so fast my foot came off the peg and hit it so hard, the peg broke!" Talk about a matter of thrust!
David, by the way, bought the bike though E-Bay, the online auction place. "I had just sold a couple of cars on-line, so I thought I'd check out what they had on the site for bikes. This bike was built in Reno, purchased in Vegas, and sold to me in Oregon," he explains.

As soon as he bought it, he took it to the boys at Custom Design Studios in Novato, California, where he knew Norm Boek, the main wrench there. "They basically took it all apart, strengthened the weak points on the frame, added the fender support on the rear, chromed and painted it, and just joined it all together," David says. Norm, who rebuilt the motor, gave it his special touches by letting it breathe in and out freely through a Mikuni carb-cum-velocity stack and a set of Sampson pipes. And Kirk Taylor's purple flames in orange give the bike that crowd-pleasing look wherever David rides. Even in San Francisco.

David, who owns a construction company called Cascade Roofing in Novato which has put a roof over some of the finest buildings in San Francisco, has been riding for many years. In fact, he's had a '77 shovelhead since he was 20 years old. Since good roofs are always in demand, David didn't need to sell it to get this one, so, he says, "I told my son that if he stayed away from drugs and out of jail until he was 20, he could have my shovelhead."
Apparently, that was incentive enough. If you happen to be cruising around the Bay Area on a sunny day, you might see two guys riding their toy bikes: David on his '99 custom, his son Damien ("the devil's child," as David puts it) on his '77 shovelhead.
Living large doesn't necessarily have to be a problem. Just ask the devil and his spawn.
-Todd Ernst