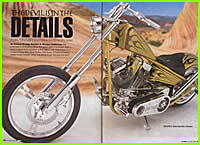 January 2003 V-Twin...
The Devil is in the Details
At Custom Design Studios in Novato, California, the emphasis is on building bikes that stand apart in a crowd. After a second place finish and then a third place, with the other bikes at a couple of Easyriders Bike Shows, Kirk Taylor of Custom Design began to ask himself "What was going to put me over the top?"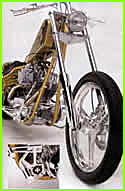 This ride started out as one of those bike deals that went sour, where Kirk got stuck with a whole bunch of parts. He thanks God for his wife "who gave me the go ahead to turn a negative into a positive."

This project began with a Paul Yaffe wide tire frame, and what appears to be a Twin Cam in this tasty chop is actually a hybrid "Fatso" engine with a Twin Cam top end and an Evo bottom. The setup mates factory Twin Cam heads, barrels, and pistons to a set of Merch Performance Evo-Style cases. The seats for the pushrod tubes in the heads are machined ever so slightly to match the angle coming off the lifter blocks in the lower end. Dave Mackie Engineering did the heads and the cam for it and Rivera Engineering is marketing the setup.

There aren't a lot of people doing things like they did in the '70s, fabricating everything themselves. Now you can go to a catalog and get damn near anything you want. Kirk wouldn't go that route. The pipes are handmade from stainless steel, between the rear fender and the exhaust pipes alone they have invested over 80 hours of work. He says, "If I was gonna tell someone this bike's shop rate, they'd shit a brick, there's $5,600 worth just in the fender and pipes. But that's what you gotta do to stand out in the crowd."
The one-off rear fender started out as "half a doughnut." He cut the sides and arch in the back and welded all the rear fender struts in. Then he welded in tubing on the back side to get a rolled edge, and cut a "widow's peak" into the fender so it goes to a point in the very front and also follows the line of the oil tank. As he explains it, it's got "everything flowing into curves and into points."

The pipes started life as a pile of pre-bent mandrel segments of stainless steel. He sketched up a rough design, and just started bending and welding rod to get an idea of where it needed to go to clear things, then he just started tack welding.
The House of Kolor Pagan gold paint is a holographic metal flake, which does a four color shift from blue, gold, green, and red. As you walk around it, it really lights up. The flames are DuPont ChromaLusion, which is a similar material. The shift between them and the rest of the bike is spectacular.
Kirk says he grew up working in his Dad's machine shop where he made springer and girder front ends. The operation folded in 1995, and Kirk picked up where he left off. He went to art school for three and a half years, and started painting gas tanks and guitars. Along the way he decided to open his own place, and the rest, as they say, "is history."

Custom Design Studios (415-382-6662) is divided into two sections. The one side is strictly for the paint, the other is fabrication and service. The theory is that grease and paint don't mix, but they wanted to have a one stop custom shop, providing paint and fabrication under one roof. It's been a winning combination; Kirk walked out of the Easyriders Bike Show in Sacramento, California, with the Editor's Choice award.
-Kit Maira